Best Chinese Phones - the Leaderboards
If you 're looking for an independent best Chinese phones leaderboard, you've come to the right place. The test winners of our smartphone leaderboards offer first-class quality and often cost less than half the price of the top cell phones from well-known brands. We show you the best Chinese phones that Samsung and Apple would like to withhold from you. All devices have been put through their paces by us and we have also tested the linked shops and found them to be reputable. 
| | | |
| --- | --- | --- |
| | Leaderboard by price | Leaderboard by size |
In the leaderboard section you will find an overview of the various best Chinese phones based on Android, sorted by inch size and price category. Some of the well-known branded models from Samsung and Huawei are also represented in our list.
The lists offer a clear comparison of the best smartphones. Depending on the category (200 USD or 6 inches or ...) you will be presented with a list of the best Android smartphones from China.
We have only included phones without a contract in our smartphone leaderboard that have already made many buyers happy and have received good customer reviews.
Explanation of the classification of best Chinese phones
---
Since there are a large number of China smartphones based on the open source Android operating system, it is easy to lose track. That's why we created the mobile phone leaderboard. Before buying a new smartphone, of course, the question arises which device is the best for you.
With our mobile phone comparison, we would like to show you the test winners of the Android smartphones we tested.
In our classification, we have based ourselves on the two most important purchase questions: price and size of the cell phone.
In the cell phone leaderboard, sorted by price, you will find the best Chinese phones in different price ranges. The division of the prices was chosen by us in such a way that it does justice to the various 'classes' of Chinese cell phones.
The second category is that of the size of the cell phone. Since the question of the correct cell phone size depends very much on the preferences of the buyer, we have classified the cell phones in three sizes. Of course, all prices always refer to cell phones without a contract. You won't find any supposed bargains here that will cost you a lot of money every month.
There is always an orientation image next to the category that shows you the size of the cell phone regardless of the size of your screen. The 5.5 inch smartphone category is aimed at buyers who want a smaller cell phone. 6.5-inch cell phones, on the other hand, are easier to use, but are slightly larger. The phones in this category correspond to the size of smartphones like the Samsung Galaxy S8. The large devices of 6.5 inches and larger are enjoying increasing popularity, especially recently. Finally there is the list of the best phablets, which are aimed at buyers who want a very large cell phone, and the list of the absolute top smartphones, the so-called flagship phones or even flagship killers.
Price range of best chinese phones 
The most fundamental decision, of course, is how much money you want to spend on your new phone. Of course there are good cell phones in all price ranges, but of course there is a difference whether you want to invest $150 or$400 in your new device. In principle, it can be said that users who only want to use their mobile phone for Whatsapp and occasional surfing will find satisfactory devices in the price range up to $150. 
Anyone who needs a little more power, plays a game on their mobile phone every now and then, watches YouTube videos frequently or wants to take one or two snapshots with the mobile phone camera, is better advised in the price range between $150 and $300. If, on the other hand, you are looking for a device with brute performance, a very good camera, top workmanship and premium functions, you should look for a price around $400. 
Display size of best chinese phones
The decision about the right size of the new cell phone is also fundamental. However, it should be noted that it is not only the inch size of the display that counts, but above all the dimensions of the mobile phone. After all, new smartphones have much thinner edges than older models, so a 5.5 inch phone can be larger than a 6 inch phone. The display size is still a good orientation point for an overview. If you are looking for a small cell phone, devices up to 6 inches are best advised. These cell phones can still be operated with one hand and fit comfortably in any trouser pocket. 
If you like a slightly larger display, you should look around in the category over 6 inches. These cell phones also fit easily in your pocket, but one-handed operation is a bit difficult depending on the app used. But you get a large display with plenty of space for content such as YouTube videos or games. 
If that's still not enough for you, you can find it in the phablets category. These phones have a display that is at least 6.5 inches. Some devices even measure 6.7 inches or more. Here you get a little tablet, so to speak, which is ideal for reading texts, simple office tasks or watching films. The disadvantage of such devices is of course that they are clearly noticeable in the trouser pocket and cannot be operated with one hand. 7 inches or more. Here you get a little tablet, so to speak, which is ideal for reading texts, simple office tasks or watching films. The disadvantage of such devices is of course that they are clearly noticeable in the trouser pocket and cannot be operated with one hand. 7 inches or more. 
Special preferences of best chinese phones
After you have selected the price range and the size of the cell phone, we come to the selection of the special preferences. Depending on what is important to you on your mobile phone, you can set certain priorities here. If you are looking for a mobile phone that is particularly suitable for games, we will show you models with a particularly powerful processor; if you place particular value on camera quality, we prefer the best camera phones. You can also choose whether the battery life, the dual SIM function or expandable storage are particularly important to you.
What is Android actually?
---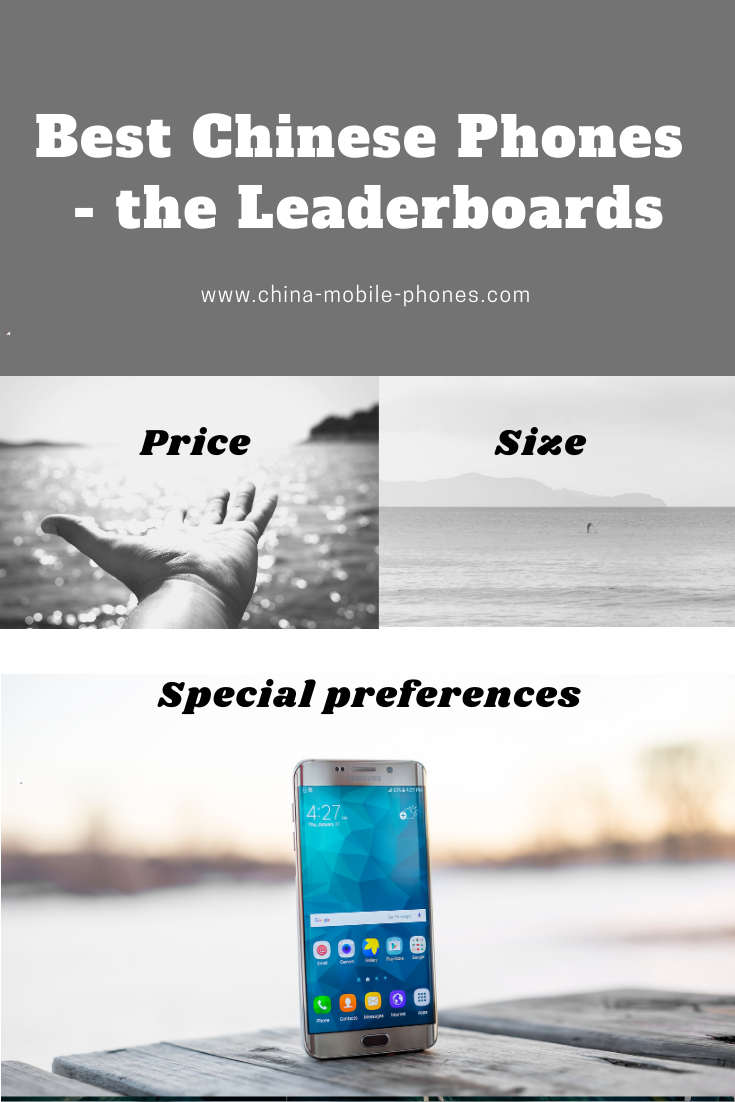 Android is by far the most widely used operating system for mobile devices around the world. This means that the China phones use exactly the same system as the cell phones of the leading manufacturers. The operating system developed by Google is easy to use and user-friendly. As we are all used to from GOOGLE.com, the system works quickly, easily and efficiently. Apps are obtained from the so-called Google Play store, which has a similar number and mostly the same apps as the legendary Apple App store. Apps such as Whatsapp, Facebook, Youtube, Google Maps and the like are of course available free of charge in the Play store. In conclusion, it must be said that every best Chinese phones that has an Android operating system can use the same apps.