Banggood.com experiences & ratings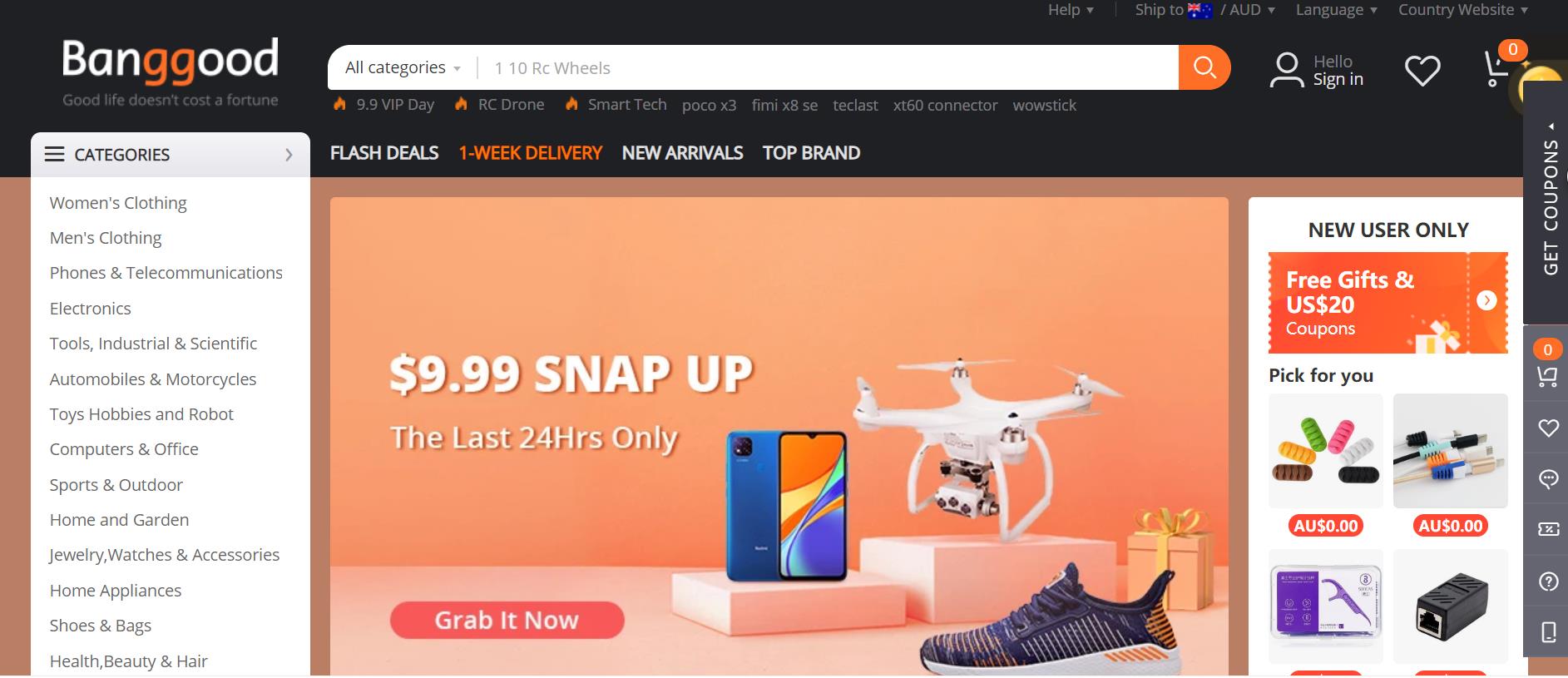 Rating
4.5/5 stars 
with over 13975 reviews

          Shipping methods
Air Parcel Register (7-20 days) 

Priority Direct Mail (7-12 days) 

European Direct Mail (15-20 days)
* If you are not sure what the duty free shipping is, here is the info..

         Advantages
Very affordable prices

Very good service
          Services
English customer service 

1 year warranty 

Online chat
        More info
Support languages

 EN

Duty free shipping method Yes
Warranty 12 months
Country Websites   

10
After Gearbest, Banggood is the largest export-based online shop for end customers from China.With nearly 50 million monthly visitors, Banggood.com is also one of the 1000 largest websites in the world. Even if the offers from Banggood are not quite as low as those from Gearbest, the online shop has been able to defend its top position for years, thanks to its good customer service and its clear shop system. Banggood's product range extends from common electronic products such as mobile phones, tablets and notebooks to clothing and household appliances. 
The website of the online shop is written in English. There is also a German translation, but this is not really useful. In addition to the large department store in China, Banggood also has a warehouse in Europe and America. 
Products and prices 
---
If you regularly compare the prices of the most popular mobile phones and gadgets from China, the tried and tested online shopper notices that Banggood and Gearbest have been engaged in a merciless price war for several years. In general, Banggood is the only online shop that can regularly compete with the extremely low prices of Gearbest. Almost all popular electronic products from sizes such as Xiaomi and Meizu and smaller manufacturers such as Cubot, Doogee or Elephone can be found on offer. In addition, you get very good prices for smaller electronic items such as power banks or e-hookahs.

Shipping & Customs
---
In contrast to another online shop, the selectable shipping options at Banggood are very manageable. The following shipping methods are currently available: 
Air Parcel Register (7-20 days) 
European Direct Mail (15-20 days) 
Priority Direct Mail (7-12 days)
Air Parcel Register: The Air Parcel Register shipping method is the classic Chinese airmail delivery. Shipping is free and is therefore particularly recommended for cheap products. With this shipping method, the product is sent directly from China to the end customer. From a value of goods of € 26, 19% import sales tax is due. This shipping method is the first choice, especially when buying small and very cheap gadgets, if you accept the 2-3 weeks waiting time.
Priority Direct Mail: The most popular shipping method for ordering mobile phones and expensive devices is Priority Direct Mail. With this shipping method, the package is first sent from China to a third country in the EU and imported there by the online shop itself. After the parcel has arrived in the European free trade area, it is delivered from there to the buyer. This order via priority direct mail has the advantage that the buyer does not have to pay for the import costs, but is taken over by the online shop. Our editorial team therefore recommends Priority Direct Mail for ordering mobile phones and more expensive devices.

European Direct Mail: this type of dispatch is an alternative to Priority Direct Mail. Even if Banggood gives very short delivery times of 7-15 days, delivery usually takes 20 days. However, even with European Direct Mail, the customs costs are covered by the online shop. The order is initially sent from China to Belgium and imported from there by the online shop. Thereafter, the shipment is delivered to the buyer in Germany by GLS without the buyer having to assume any further costs. Since European Direct Mail is cheaper than Priority Direct Mail, it is a good alternative if you have no problem waiting about a week longer for your order.

Guarantee and customer service
Banggood offers its buyers good, English-speaking customer service and fair warranty terms. Last but not least, this has helped the online shop to assert itself against a large number of competitors in the long term.
A one-year guarantee applies to mobile phones, tablets, notebooks and other electronic devices, and a one-month guarantee applies to their accessories (batteries, cables, chargers). If the device no longer works or is defective within one year of the delivery date, the customer can send it back for free repair. Of course, the warranty excludes all damage caused by artificial factors such as disassembly, abuse, drops, falls, water, unofficial firmwares, software changes or similar causes.
After a return has arrived in China, Banggood will undertake the repair or supply a replacement device free of charge. However, the shipping costs must be borne by the buyer. In order to assert a guarantee claim, it is usually possible to send a 'proof photo' or video to customer service.
Vouchers & coupons
---
As with most online shops from China, Banggood.com regularly offers coupons and voucher codes with which certain products can be ordered at a discount. An overview of the current promotions and vouchers can be found prominently linked on the start page of the online shop. Before placing an order, it is worth taking a look at this. You can also find out more about the current offers from Banggood.com on our offer page . All vouchers and coupons from Banggood can be found daily in our voucher list for all China Shops.(Coming soon)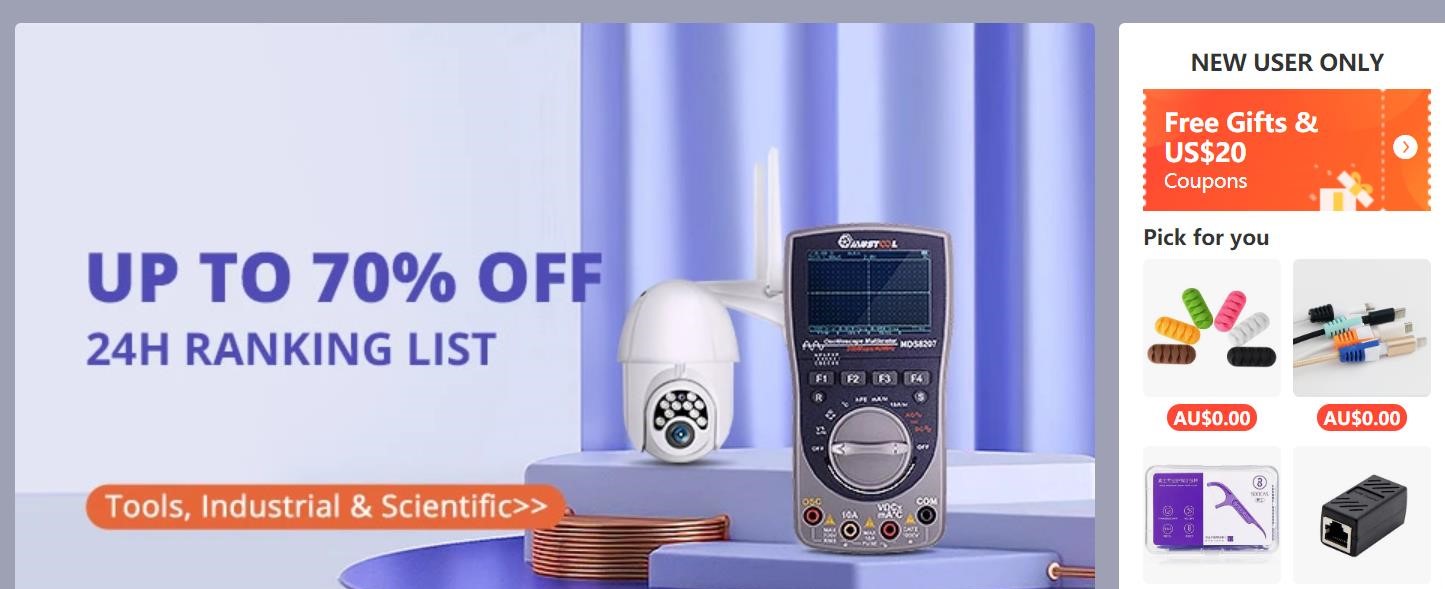 Our experience with Banggood.com
---
Due to the very low prices and good customer service, Banggood.com is one of the best online shops for purchases from China. Our customers have often ordered from Banggood ourselves and the items were always delivered quickly and well packaged. If you order with Priority Direct Mail or European Direct Mail, you don't have to worry about customs costs, as the import is taken over by the online shop. Based on our positive experience, we can therefore make a clear recommendation for Banggood.