Lightinthebox.com ratings & review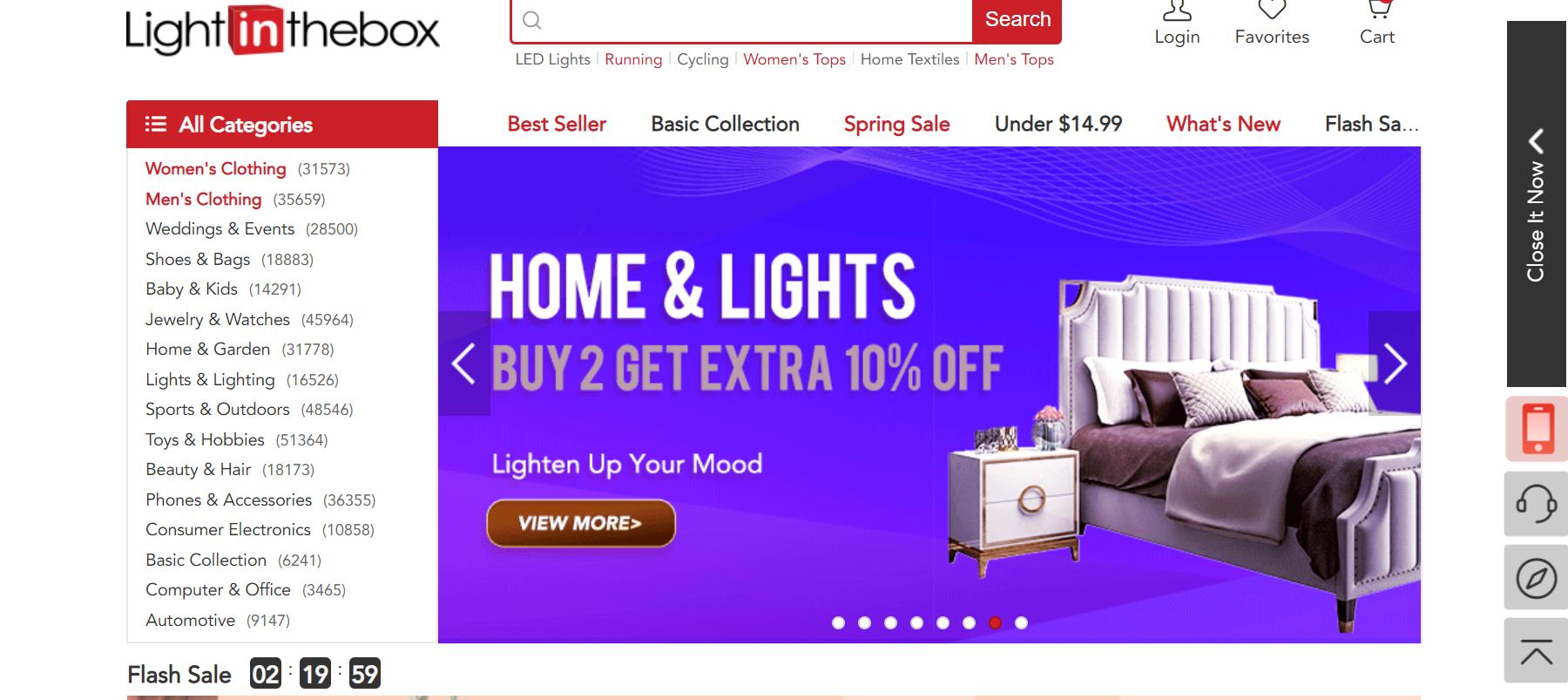 Rating
3.5/5 stars 
with over 12986 reviews

          Shipping methods
Express shipping (3-7 days) 

Express mail delivery (7-15 days) 

Postal service (10-25 days)
* If you are not sure what the duty free shipping is, here is the info..

         Advantages
Very affordable prices 

Repair in Europe 

Usable service
          Services
14 days right of return 

3 month guarantee 

English customer service
        More info
Support languages

 EN

Duty free shipping method Yes
Warranty 3 months
Country Websites   

9
Lightinthebox, also known as LITB for short by China shopping experts, is one of the largest and oldest Chinese online shops. Lightinthebox was founded in 2007 and initially specialized in the sale of clothes and cheaper gadgets. Over the years, the online shop has become the first port of call for cheap wedding dresses from China. As one of the pioneers in this field, Lightinthebox has long been one of the 2000 largest websites in the world and is the only China shop to be listed on the stock exchange alongside Aliexpress.
In the meantime, however, Lightinthebox is expanding its product range significantly in the electronics sector. Since the online shop achieves large margins by selling cheap clothes, it often uses these profits to get very cheap prices for mobile phones, laptops or other gadgets. In addition to these low prices, Lightinthebox also makes its inexpensive customs insurance popular with buyers. LITB also has a European warehouse in Poland, which, however, does not contain any products. The website and customer service are in English. There is also an online translation in other languages.
Shipping, delivery time and tracking
---

Lightinthebox usually offers three different shipping methods.
Expedited Express / Express Shipping (3-7 days)
Expedited Postal / Express Post (7-15 days)
Postal Service (9-30 days)
Expedited Express / Express Shipping (3-7 days)
This is Lightinthebox most expensive shipping method. Shipments that are ordered with express delivery will be delivered by DHL Express. Less the processing time by the online shop, delivery only takes 2-3 working days. The customs costs of 19% of the order value incurred during import must be paid in cash at the doorstep. Lightinthebox also offers customs insurance for express shipping, but this is relatively expensive. Tracking for express shipping at Lightinthebox: DHL.com

Expedited Postal / Express Post (7-15 days)
This shipping method is the recommendation of our editors. The express mail delivery from Lightinthebox corresponds to the EU express delivery from Gearbest. The shipments are delivered by Lightinthebox to an EU third country and imported there. The online shop takes care of the import. The shipment will be delivered to the customer at no additional cost.
Also, cheap customs insurance can be chosen here, where Lightinthebox will reimburse the customs costs if these have to be paid by the buyer.
Attention: in contrast to the EU Express Shipping from Gearbest, it can happen with Lightinthebox that the customs costs have to be paid by the buyer himself. We, therefore, recommend that you always book customs insurance in addition to shipping. Tracking for express mail at Lightinthebox: 17track.net
Postal Service (9-30 days)
The free postage from Lightinthebox is the classic China Airmail shipping, which is also offered by many online shops on Aliexpress or eBay. The delivery time usually takes longer than two weeks and the chances are relatively high that the package will have to be picked up at the customs office. It is therefore advisable to add customs insurance to the order here as well. Due to the slight additional costs for express mail, we only advise you to choose the free mail service from LITB for very cheap products.
Tracking for standard shipping at Lightinthebox: 17track.net
Customs charges
---
Lightinthebox offers optional customs insurance for orders from China. If you choose this option, which usually costs less than euros, you will get a refund of the import sales tax amount from customer service after delivery. To do this, you simply take a photo of the invoice from the customs office and send it to the online shop in the customer centre. We warmly recommend that you always add customs insurance to the shipment, as this only costs a few euros to save so much money.
At the same time, very few Lightinthebox shipments end up at customs. For shipments with 'Expedited Postal / Express Postversand', Lightinthebox usually takes on the import of the shipment itself. The package is initially delivered to a third EU country, where it is cleared by the online shop and then delivered to the end customer.
It should be noted that customs insurance is much more expensive when ordering with express delivery. Because of these additional costs, it is worthwhile to order from Lightinthebox with express mail and customs insurance. As a rule, the package is delivered at no extra cost and if there are costs, LITB will reimburse them.

Guarantee and right of return
---
When it comes to the right of return, Lightinthebox has a lot to offer. In this way, products can be returned within 14 days if you are not satisfied. The advantage over most online shops is that the return does not go to China but to Lightinthebox European warehouse. So at Lightinthebox, you have a relatively easy game of returning bad or non-working products and getting your money back.
In terms of the guarantee, however, Lightinthebox is less accommodating than most other online shops. Depending on which category an order belongs to, there is a certain period in which the online shop takes care of the repair or replacement. The warranty period is not particularly long for most products. The warranty period for mobile phones is only for three months.
You can find all information about the warranty at Lightinthebox here.

Payment options
---
Lightinthebox offers a variety of payment options. These include Visa, Visa Debit, Mastercard, American Express, Maestro, JCB, Western Union, Paypal, Yandex and Sofortüberweisung. We always recommend paying with PayPal, as you benefit from PayPal buyer protection.

Coupons
---
As already mentioned in the introduction, Lightinthebox often gives large discounts on products from the electronics sector such as mobile phones, tablets and notebooks. To get these low prices, you often have to use a coupon code. A list of the best offers by Lightinthebox is at our website here (coming soon).
Our experience with Lightinthebox
---
Tomtop Tomtop is a very large and trustworthy online shop. Unfortunately, Tomtop is somewhat overshadowed by Gearbest and is not yet too well known among buyers. The duty-free shipping and the warehouse are actually strong arguments for the online shop. Our customers have already ordered several times from Tomtop and all products have been properly shipped.