The 10 Best Chinese Phones Under 200: A Budget-Friendly Guide
Xiaomi Redmi Note 10 5G
---

CPU: Mediatek Dimensity 700 - 2 x 2.2 GHz + 6 x 2 GHz

RAM: 4 GB RAM

Display: 2400 x 1080, 6.5 inch 90Hz (IPS)

Operating system: Android 11, MIUI

Battery: 5000 mAh




Camera: 48MP + 2MP (dual) Front Camera: 8MP




LTE: Yes - 1, 2, 3, 4, 5, 7, 8, 12, 17, 20, 28, 32, 66, 38, 40, 41




SIM: Dual - nano




Memory: 128 GB or 64 GB




Expandable memory: Hybrid

Weight: 192 g




Dimensions: 161.81 x 75.34 x 8.92 mm




Antutu: 285040




---

Only mono speaker

Hybrid slot

No UWW

No notification LED

Only 18 watts
Realme 8
---

CPU: Mediatek Helio G95 - 2 x 2.05GHz + 6 x 2.0Ghz

RAM: 4 GB RAM or 6 GB RAM




Display: 2400 x 1080, 6.4 inches 60Hz (AMOLED)




Operating system: Android 12, RealmeUI




Battery: 5000 mAh




Camera: 64 MP + 8MP (dual) + 2MP (triple)




Front camera: 16 MP

LTE: Yes - 1, 3, 5, 7, 8, 20, 28

SIM : Dual - nano

Memory: 128 GB




Expandable memory: Yes

Weight: 177 g




Dimensions: 161 x 74 x 8 mm




Antutu: 35481

7


---

Very good AMOLED display AOD - very good battery life 

with low power consumption

Dual SIM + Micro-SD

Good main camera + selfie

Chic design + good workmanship

Strong reception (network, WiFi, GPS)



Redmi 10C
---

Display: 1650 x 720, 6.7 Inch 60Hz (IPS)

Operating system: Android 11, MIUI

Battery: 5000 mAh

Camera: 50 MP + 2MP (dual)

Front camera: 5 MP

LTE: Yes - 1, 2, 3, 4, 5, 7, 8, 20, 28, 38, 40, 41

SIM: Dual - nano

Memory: 128 GB or 64 GB

Expandable memory: Yes

Weight: 190 g

Dimensions: 169.59 x 76.56 x 8.29 mm

Antutu: 236000

---
Realme C31
---

CPU: Unisoc Tiger T612 - 2 x 1.8GHz + 6 x 1.8GHz

RAM: 3GB RAM or 4GB RAM

Display: 1600 x 720, 6.5 inch 60Hz (IPS)

OS: Android 11, RealmeUI

Battery: 5000 mAh

Camera: 13 MP + 2MP (dual) + 2MP (triple)

Front camera: 5 MP

LTE: Yes - 1, 3, 5, 7, 8, 20, 28, 38, 40, 41

SIM: Dual - nano

Memory: 32 GB or 64 GB

Expandable memory: Yes

Weight: 197 g

Dimensions: 164.7 x 76.2 x 8.4 mm

Antutu: 187700

---

Good performance upgrade: Unisoc CPU & UFS 2.2 extremely

Strong battery life

Chic design for the price

Solid camera (only) during the day
Poco C40
---

CPU: JLQ JR510 -

RAM: 3 GB RAM or 4 GB RAM

Display: 1650 x 720, 6.7 inch 60Hz (IPS)

Operating system: Android 11, MIUI

Battery: 6000 mAh

Camera: 13 MP + 2MP (dual)

Front camera: 5 MP

LTE: Yes - 1, 2, 3, 4, 5 , 7, 8, 20, 28, 38, 40, 41

SIM: Dual - nano

Memory: 32 GB or 64 GB

Expandable memory: Yes

Weight: 204 g

Dimensions: 169.6 x 76.6 x 9.2 mm

Antutu: 130038

---

Good workmanship

3.5 millimeter jack connection

Triple slot (memory expansion + Daul-SIM)

Reliable fingerprint sensor

Low standby consumption

Good battery life

Weak display

Insufficient performance

Weak cameras

No NFC
Redmi A1
---

CPU: Mediatek Helio A22 - 4 x 2.0 GHz

RAM: 2 GB RAM or 3 GB RAM

Display: 1600 x 720 , 6.5 inch 60Hz (IPS)

OS: Android 12, Android Go

Battery: 5000 mAh

Camera: 8 MP

Front camera: 5 MP

LTE: Yes - 1, 3, 5, 7, 8, 20, 28, 38, 40, 41

SIM: Dual - nano

Memory: 32 GB

Expandable memory: Yes

Weight: 192 g

Dimensions: 164.9 x 76.8 x 9.1 mm

Antutu: 93173

---

Chic design in three cool colors

Headphone connection, FM radio + memory expansion

Real Dual SIM (2x Nano-SIM + microSD)

6.5 inch display with HD+ resolution

Usable main camera with Full HD videos

2G/3G/4G with LTE band 20 & Bluetooth 5.0

Very good battery life

Micro-USB instead of USB-C

No notification LED

No fingerprint sensor & no face unlock

Small RAM, Small internal memory

No WLAN in dual band, no NFC

Charging with 10 watts
Redmi Note 11
---

CPU: Snapdragon 680 - 4 x 2.2 GHz + 4 x 1.8 GHz

RAM: 4 GB RAM or 6 GB RAM

Display: 2400 x 1080, 6.4 inch 90Hz (AMOLED )

Operating system: Android 11, MIUI

Battery: 5000 mAh

Camera: 50 MP + 8MP (dual) + 2MP (triple)

Front camera: 13 MP

LTE: Yes - 1, 2, 3, 4, 5, 7, 8, 20, 28

SIM: Dual - nano

Memory: 128 GB or 64 GB

Expandable memory: Yes

Weight: 179 g

Dimensions: 160 x 74 x 8 mm

Antutu : 238550

---

Outstanding display

Chic design + good workmanship

Strong reception (network, WLAN, GPS)

Good main camera

Strong battery life

Flawless fingerprint sensor

Dual SIM + Micro-SD

Real stereo sound

Average performance

Still Android 11
Poco M3 Pro 5G
---

CPU : Mediatek Dimensity 700 - 2 x 2.2 GHz + 6 x 2 GHz

RAM: 6 GB RAM

Display: 2400 x 1080, 6.5 inch 90Hz (IPS)

OS: Android 11, MIUI

Battery: 5000 mAh

Camera: 48 MP + 2MP (dual) + 2MP (triple)

Front Camera: 8MP

LTE: Yes - 1, 2, 3, 4, 5, 7, 8, 12, 17, 20, 28, 32, 66, 38, 40, 41

SIM: Dual - nano

Memory: 128 GB or 64 GB

Expandable memory: Hybrid

Weight: 192 g

Dimensions: 161.81 x 75.34 x 8.92 mm

Antutu: 327000

---

Hybrid slot only

No hybrid stere

No UWW

Only 18 watt charging



Poco M5
---

CPU: MediaTek Helio G99 - 2 x 2.2GHz + 6 x 2.0GHz

RAM: 4GB RAM

Display: 2408 x 1080, 6.6 inch, resolution, size 90Hz (IPS)

OS: Android 12, MIUI

Battery: 5000 mAh

Camera: 50 MP + 2MP (dual) + 2MP (triple)

Front camera: 5 MP

LTE: Yes - 1, 2, 3, 4, 5, 7, 8, 20, 28, 38, 40, 41

SIM: Dual - nano

Memory: 128 GB or 64 GB

Memory expandable: yes

weight: 201 g

Dimensions: 163.99 × 76.09 × 8.9 mm

Antutu: 367546

---
Redmi 10
---

CPU: Mediatek Helio G88 - 2 x 2.0 GHz + 6 x 1.8 GHz

RAM: 4 GB RAM or 6 GB RAM

Display: 2400 x 1080, 6.5 inch 90Hz (IPS)

Operating system: Android 11

Battery: 5000 mAh

Camera: 50 MP + 8MP (dual) + 2MP ( triple)

Front camera: 8 MP

LTE: Yes - 1, 2, 3, 4, 5, 7, 8, 20, 28

SIM: Dual - nano

Memory: Expandable memory: Yes

Weight: 181 g

Dimensions: 162 x 75.5 x 8.8 mm

Antutu: 220000

---

Good performance

Good 90Hz display

Fast and reliable fingerprint scanner

Dual SIM + micro SD

Solid ultra wide -angle camera

Good reception (network, WLAN, GPS)

Solid workmanshi

p

50MP camera 

Average battery life

Video recordings 

No notification LED
Realme 9i
---

CPU: Snapdragon 680 - 4 x 2.2 GHz + 4 x 1.8 GHz

RAM: 4 GB RAM

Display: 2412 x 1080, 6.6 inch 90Hz ( IPS)

Operating system: Android 11, RealmeUI

Battery: 5000 mAh

Camera: 50 MP + 2MP (dual) + 2MP (triple) Front

camera: 16 MP

LTE: Yes - 1, 3, 5, 7, 8, 20, 28, 38, 40, 41

SIM: Dual - nano

Memory: 128 GB or 64 GB Expandable

memory: Yes

Weight: 190 g

Dimensions: 164.4 x 75.7 x 8.4 mm

Antutu: 255000

---

Display: back to 90 Hertz

Still with Realme UI 2.0 / Android 11
What the best Chinese phones do you get under 200 ?
What the best Chinese phones do you get under $120?
Do cheap Chinese smartphones merely perform the bare minimum? No, a lot has changed in the affordable smartphone market, and these devices easily complete all the duties required of a modern smartphone. Here, you can obtain a smartphone with all the characteristics of a flagship phone for a portion of the cost. It also has a strong battery life and can launch all apps. Although you must compromise on the processor and the camera, use is not significantly constrained. In the price range up to USD120, especially newcomers and infrequent users will discover what they're searching for.

They have a performance that costs at least twice as much to see in the US, Europe, etc. Although none of the devices in this list are high-end Chinese phones, they are more than competent for daily usage and even include several capabilities that are not available at this price in the USA, Europe, etc.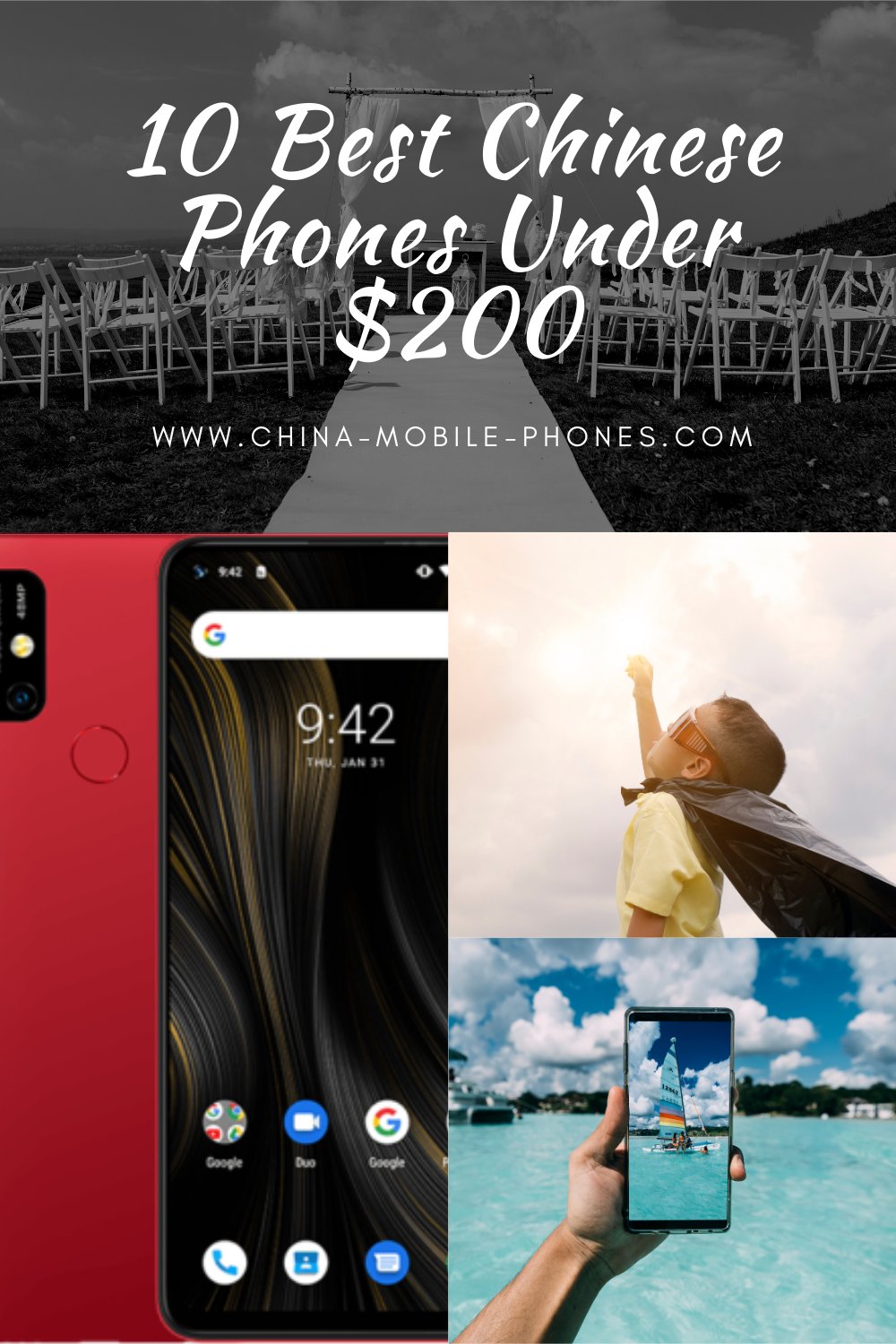 What Chinese phones do you get for $150 - $200?
For barely more than $200, you can get a smartphone from China that fully handles all the tasks of a modern smartphone. The Xiaomi Redmi models, which offer incredible value for money, are decisive for the price range.

Here you can find a comparison of Chinese mobile phones in the affordable price range from 150 to 200 US dollar. The smartphones in this price range come with a fast Octa Core processor, a large display with an IPS panel and mostly Full HD resolution, as well as a dual camera with a bokeh sensor and good pictures in daylight.

The devices listed here are powerful and inexpensive at the same time. The equipment of the cell phones ensures that the basic functions (Whatsapp, Facebook, YouTube, surfing etc.) can be used quickly with short loading times.
The navigation through the system is very fast and you can also play a game from time to time. At the same time, they offer a long battery life thanks to frugal hardware.
Since the main memory of the devices is at least 3 GB or sometimes even 6 GB, some apps and applications can be used at the same time without restricting performance too much. If you want to play games on your smartphone, you get a device with which you can use all current 3D games. However, you have to accept occasional stutters and delays in very demanding games.
Cell phones in particular with comparable equipment from Samsung, Sony or Huawei cost twice as much - and cannot even set themselves apart in the price range with special features.
In this comparison, china-mobile-phones.com has selected the phones and shops that have already been tested and proven many times, so that you are on the safe side when buying a cheap Chinese phone. You can find a comparison and an evaluation of many China mobile phone shops in our article [ Online shops in comparison ]
All prices quoted are final prices, including customs duties (import sales tax 19%) and express shipping. All Chinese phone shops integrated into the price comparison are well-known, trustworthy providers with mostly positive reviews on the internet.
From the best Chinese phones under $200 to home