Shipping from China: all information you need to know
Ordering mobile phones, electronics, and other products from China is an exciting first-time experience for many buyers. In the following article, we explain which shipping methods are available from China to EU and what needs to be considered when ordering. You can apply the same method when you order from your own country. If you follow a few simple rules, shipping from China is pretty safe and can save you a lot of money on top of that.

Overview of the shipping methods
---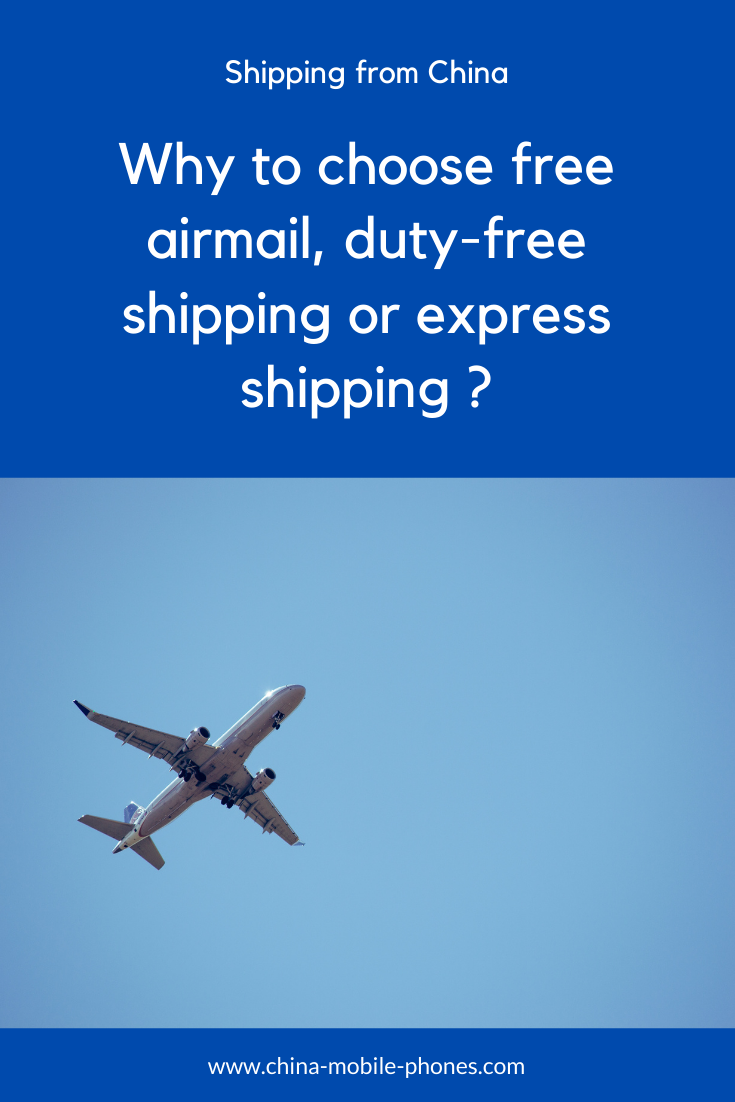 The following example is a list of the most common shipping methods from China to Germany. In principle, the same shipping methods often have different names in different shops. Duty-free shipping via a third country in the EU can be called EU Priority Line at Gearbest.com and Priority Direct Mail at Banggood.com.
In general, there are only three different types of shipping, namely free airmail, duty-free shipping and express shipping. In the following, you will find out what the shipping methods are all about and what names they have in the online shops. Then, when you order and choose the shipping methods in your country, you may take the same consideration.

Free airmail shipments
---
The free airmail shipments are standard in many online shops and also on shopping platforms such as Aliexpress and eBay. The special thing about this shipping method is that the delivery is really completely free. Presumably, the Chinese state has a hand in this and subsidizes shipping in order to promote the export of Chinese products. As soon as the items have arrived in Germany or other countries, they are delivered to your doorstep by German Post as a letter or consignment of goods. These shipping methods are free airmail shipments:
China Post Airmail
Aliexpress Standard 
Shipping Registered 
Airmail Unregistered 
Airmail (without shipment tracking) 
HongKong Post 
Singapore Post 
PostNL 
ePacket 
Belgium Registered
How long does the free shipping from China take?
Shipping time: The parcels or letters with free shipping can take different lengths of time. Sometimes you are lucky and the package is thereafter a week, sometimes it takes 3 or even 4 weeks. The average is around 10 to 15 days. Your package should be there within 45-60 days. If this has not happened, the buyer protection (PayPal or Aliexpress) is activated.

How does the import duty work for free shipments?
Customs:  There are no costs for shipments with a value of less than € 26. In the case of parcels with a total value of more than € 26, the parcel may not be delivered to the front door but to the customs office. You can pick it up there with a copy of the payment receipt (PayPal screenshot) and pay the 19% import sales tax on site. Of course, it can happen that a package 'slips through', but especially with higher-priced products such as mobile phones, it is very likely that the shipment will end up at customs. However, products such as cheap watches, dresses, jewellery, cables, small gadgets and so on are very unlikely. If you want to know more about customs, just have a look at our customs article.
The free shipping methods differ in terms of the provider and the ability to track the shipment. We generally advise against free shipping without shipment tracking (unregistered). In any case, the reputable shops only offer the option of free shipping with shipment tracking. The classics are China Mail or Hong Kong Post. Products that do not cost more than € 26 can be ordered from Aliexpress, for example with free shipping. Since over 26 € (including shipping costs) import sales tax is due, a reputable supplier should always be selected for shipping.
Duty-free shipping methods
---
Some online shops offer so-called duty-free shipping methods. Strictly speaking, there are no duty-free shipping methods, because the package has to somehow reach the destination country and thus a customs import process must also take place.
In the real sense, this means that the online shop takes over the import of the shipment into the EU, pays the import costs and immediately afterwards sends it from an EU department store to the customer. There are no additional costs for the buyer, as shipping within the EU is generally duty-free.
Express shipping from China
---
In addition to the free airmail delivery and the duty-free delivery methods, there is also the express delivery category. This is a premium delivery service that delivers your order from China to EU to your front door within a few days. These shipping methods are usually significantly more expensive (€ 10 and more). The delivery time is very short and the shipment is often insured by the shipping service provider itself. In addition, the shipping service providers take care of customs clearance, so that a trip to the customs office is not necessary. The best-known providers of such express shipping methods are DHL Express, FedEx and UPS.

FedEx and UPS
In our experience, these two shipping service providers are not recommended for orders from China. The reason for this is the often complicated import procedure. Although UPS and FedEx also handle customs clearance by the shipping service provider, the process is often quite complicated. If you have had other experiences, please let us know in a comment.
DHL Express
When things have to go fast, our favourite is shipping with DHL Express. The shipping time from China to Germany is often less than 3-4 working days and is therefore almost as fast as a normal domestic shipment.
For orders with DHL Express, customs clearance is handled by DHL. This is very convenient for the buyer as it saves the trip to the customs office. The basis for smooth customs clearance by DHL is that the online shop has declared the content and value of the goods at least halfway correctly. If this is not the case, it is not a big deal. In this case, DHL Express will contact you by phone or email. Alternatively, you can also call the DHL Express import department if your shipment has stalled. After you send a brief description of the contents of the shipment and a screenshot of the proof of purchase (ideally PayPal) to DHL, customs clearance will be carried out.

DHL Express shipment tracking
Handed it on Wednesday in Hong Kong and on Thursday at the front door. This is DHL Express.
After completing the purchase in any online China Shop, you will receive an email with your personal tracking number after about 1-4 days. The shipment can then be tracked on the DHL Express website by entering the tracking number.
If you enter this tracking number on the DHL page, you should ideally read this status: 
'Shipment picked up', 'Shipment was handed over to DHL'

As soon as this status is there, your package is in the hands of DHL and on its way to Europe. One problem, however, is that some Chinese mobile phone shops already give you the tracking number even though the package is not yet in the hands of DHL. In this case, the status should read this:
'The order data for this shipment was electronically transmitted to DHL by the sender.', 'Shipment information received'

This is also basically nothing to worry about. However, if this status has still not changed after 3-5 days, likely, the China mobile phone shop does not have the device in stock. In this case, you should first ask the support and cancel if there are further delays. The standard way of ordering leads from Hong Kong to customs in Leipzig. As soon as your package has been sorted or customs cleared in Leipzig, you can call DHL to inquire about the cost of import sales tax.

What does the import cost with DHL Express? 
The import costs must be paid in cash upon delivery to your doorstep. Attention: it seems that DHL express couriers cannot change. You should have the money ready. If you are not at home for the first delivery appointment, you can conveniently book a new delivery appointment via a hotline or website. The costs are 19% of the declared value of the goods and the capital provision commission. Since June 1st, 2014 DHL has been levying a capital provision commission of 2% in addition to the 19% import sales tax, but at least € 12. Unfortunately, this means that for orders via DHL,  € 12 will be charged in addition to the 19% import sales tax. We have here how you can avoid this fee described. However, the process is quite complex and is only worthwhile if you frequently order with DHL Express.
Conclusion
---
Thanks to the steadily increasing exports from China to the EU and other countries, it is now relatively easy to order products from China. Although the online shops have different names for their shipping methods, shipping takes place according to the scheme described. We generally recommend the 'duty-free shipping methods' for more expensive products such as cell phones, tablets or laptops, as you save a lot of money. For smaller gadgets or clothes, however, we recommend free airmail delivery. And if you are really in a hurry, you can use DHL Express shipping.
We hope that this guide has provided you with some clarity regarding orders from China. If you have any further questions, please write us a comment.