Gearbest Review
Rating
4/5 stars 
with over 200258 reviews
          Shipping methods
Priority Line 

(duty free)

Railway Priority 

Mail (duty free)

DHL Express
* If you are not sure what the duty free shipping is, here is the info..

         Advantages
EU, UK, USA warehouses

Very affordable prices

Good service
        Disadvantages
Customer service only in English

Name of EU warehouse confusing



          Services
30 days return policy

1 year warranty

Free repair

Online chat
        More info
Support languages

 EN

Duty free shipping method Yes
Warranty 12 months
Website languages 18
Navigation
---
Gearbest.com is the largest export-based online shop from China. With almost 100 million visitors a month, Gearbest is one of the 500 largest websites in the world. In addition to almost all well-known Chinese mobile phones, Gearbest's product range includes numerous gadgets, tablets, notebooks, e-cigarettes, e-bikes, clothing and household products. Gearbest has achieved its pioneering position in online shopping from China, thanks to its unrivalled low prices and the inexpensive duty-free shipping Express.
In general, numerous offers on Gearbest seem outrageously cheap, even in comparison with the big players in Chinese online shops. The low prices are achieved by the enormous sales volumes, which allow Gearbest to demand very low prices from the manufacturers.
At the same time, Gearbest regularly sells products at a loss. The capital for these advertising sales comes from the billion-dollar parent company Globalegrow, which, through Gearbest.com, is trying to gradually attract sales from competing for online shops in order to achieve market dominance. The strategy appears to be successful, as Gearbest already has as many visitors as the three largest competitors (Banggood, Dealextreme & Lightinthebox) combined, measured by visitor numbers. The following Shopping Guide tells you what you should bear in mind when shopping at Gearbest.com and what tips and tricks you can use to save money.
Warranty, Returns & Customer Service
---
Gearbest offers English-speaking customer support. Answers to queries can be received via online chat or via a support request in the customer centre. In the online chat, you usually receive an answer within a few minutes; for support inquiries in the customer centre, the answer takes 1-2 days. Even if there are always dissatisfied customers, Gearbest has been able to develop good service quality over the years. This is also confirmed by a rating of 4/5 points from over 20,000 reviews on Trustpilot.
Gearbest offers a 30-day return policy on all orders. A return is also possible if the product is functional and the buyer simply does not like it. If the product is actually defective, it can be returned within 45 days. The buyer will then receive a refund or a replacement device from Gearbest. Please note, however, that the cost of returning the goods will be borne by the buyer. How to properly send a package back to China can be found in the following article. For a mobile phone, the costs are just € 5.50.
Regardless of the right of return, all items purchased on Gearbest.com except toys, drones, are guaranteed for one year. If a defect occurs in the purchased product during this period, it can be sent back to Gearbest for repair. Returns from Germany to China are borne by the buyer, while Gearbest takes care of repairs and returns to EU or other countries. For products such as mobile phones, where numerous defects occur due to damage by the buyer (e.g. broken display), it is still possible to contact customer support in order to request repairs at your own expense.
Please bear in mind, the policy is constantly changing.

Shipping methods from China
---
You may check availabilities and costs of shipping methods without login or checkout.
Germany Express (7-12 days)
Priority Line (7-12 days)
EU Express (8-18 days)
DHL Express (3-8 days)
Railway Priority Mail (15-30 days)
GW Warehouse: Typically 3-5 days to the UK, 3-7 days to other European countries

USA Warehouse: Generally 3-7 days to a USA address

ES Warehouse: Generally 2-5 days to Spain, 3-7 days to Portugal
Germany Express / EU Priority Line
Update August 2018: Gearbest has renamed the shipping method Germany Express to EU Priority Line. However, the shipping process is the same, only that the parcel is now delivered by DHL.
By far the most popular shipping method at Gearbest is Germany Express (in some cases also called Germany Priority Mail or Germany Priority Line or German Line or Germany Line) or EU Priority Line. Delivery with these shipping methods is generally duty-free. This works by the online shop first sending the shipment to a dispatch warehouse in the EU. Here the delivery is imported into the EU free trade zone and the import costs incurred are paid by Gearbest. From the European shipping warehouse, the shipment is then forwarded to the buyer, who usually receives his package from Hermes or DHL. As a rule, orders with Germany Express are delivered by Hermes and orders with EU-Priority Line by DHL. The delivery time is usually 7 - 14 days. Germany Express / EU-Priority Line shipments can be tracked on Real1Tracking.net
The following tracking screenshot shows the two stations of the shipment. After the shipment has been sent from Hong Kong (Departed Hong Kong Sorting Center), it first arrives in Belgium (Shipment in transit-delivered to the destination country). Now a shipping label is created for Hermes (The parcel has been announced electronically to Hermes) and the parcel is transported from Belgium to the recipient. In this case, it only takes 4 working days from shipping from China to delivery to your doorstep, but the average is closer to 12 days.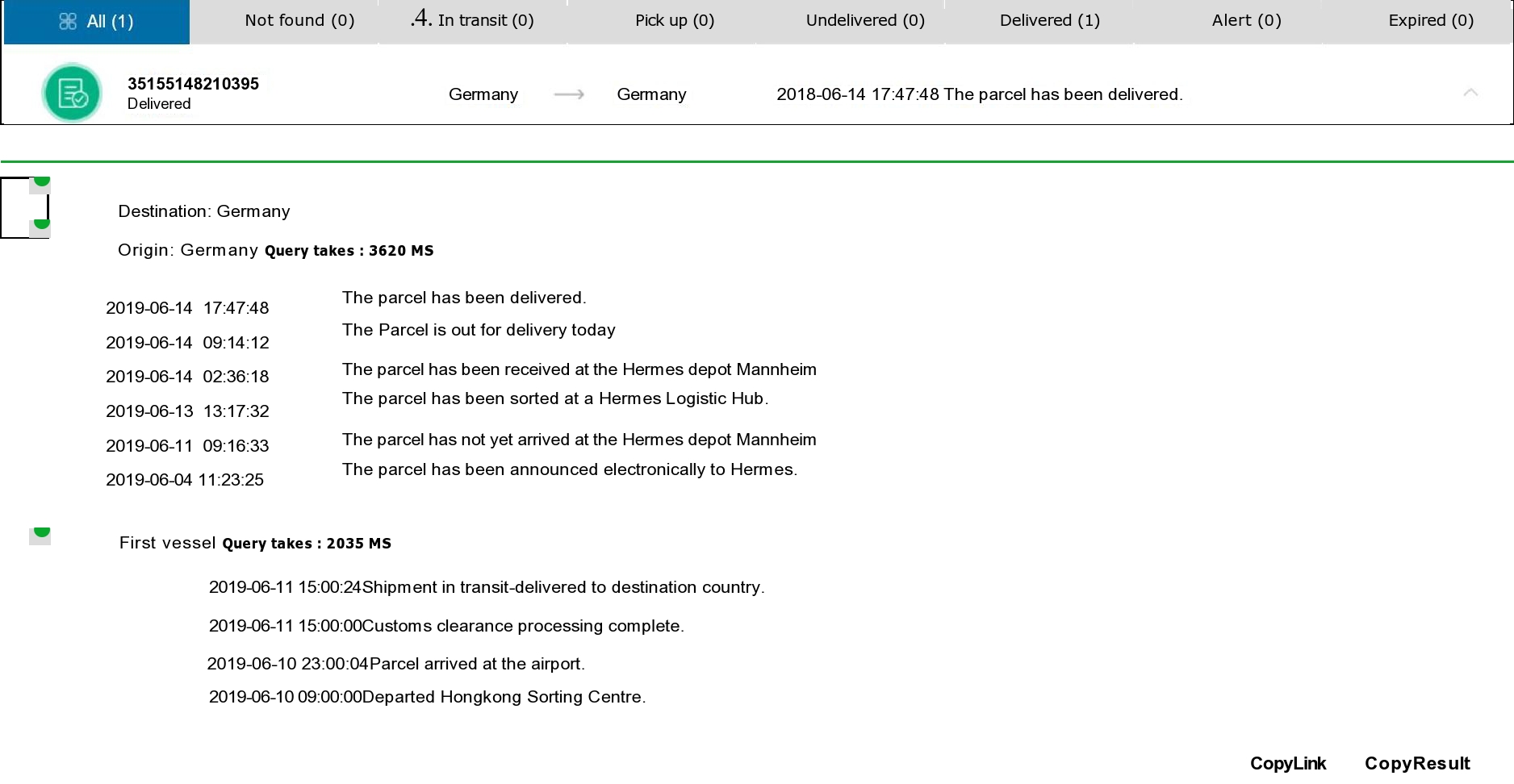 Priority Line and EU Express
The shipping methods EU Priority Line and EU Express are displayed as alternatives to Germany Express shipping at checkout. The shipping route for these two methods corresponds to Germany Express.

DHL Express
Finally, there is also the option of having your package sent to you by DHL Express. The delivery is extremely fast and usually only takes 2-3 working days. However, one should bear in mind that with DHL Express the import costs are borne entirely by the buyer. As soon as a product is above the duty-free limit of € 26, 19% import sales tax is due. In addition, DHL charges a flat fee of € 13 for customs clearance. Shipping by DHL is therefore extremely fast, but not exactly cheap.

Railway Priority Mail
For oversized products (e.g. televisions, projectors, drones) there is also Railway Priority Mail. With this shipping method, the order is delivered by train from China to Germany. The import costs are taken over by Gearbest as with Germany Express. So you get your product delivered to your doorstep at no additional cost.
Please note, however, that delivery via Railway Priority Mail can take 2-4 weeks. After all, Railway Priority Mail is the only shipping method with which it is possible to order large equipment inexpensively from China to Germany. Gearbest has created a unique position for the sale of numerous devices such as the Xiaomi TVs and e-bikes. Railway Express shipments can be on Real1Tracking.net can be tracked.

Shipping from Europe
---
In addition to shipping from China, Gearbest also operates numerous shipping warehouses in the EU, UK and USA, including Germany. These have the abbreviation "Fast- *" and occasionally "GW- *". In the following you will find a translation of the abbreviations into the respective countries of the department stores:
---
China                                                                                         CN-099, CN-2, CN-MI, CN, Base

---
Hong kong                                                                                HK, HK-2, HK-4, HK-5, HK-6

---
Germany                                                                                   Fast-23, G-W-24, G-W-21

---
England                                                                                     Fast-27, UK-W, CN-001, G-W-15

---
France                                                                                     Fast-30
---
Italy                                                                                        CN-010, IT-W
---
Poland                                                                                       Fast-08, CN-026, G-W-4
---
Portugal                                                                                    G-W-25
---
Spain                                                                                        Fast-29, G-W-12, Fast-07
---
Shipping within the EU usually costs 3-5 euros. The products are delivered within a few days by DHL, Hermes, UPS or DPD. You can simply go to the shipping provider's website to track your shipment.

Vouchers & coupons
---
Gearbest.com regularly publishes coupon codes that can be used to buy certain products cheaper. The coupon codes always relate to individual products, so do not be fooled by coupon websites that claim to offer coupons with a product-independent discount.
In order to redeem a voucher, one must have created a customer account and must not choose the PayPal checkout. After the product has been placed in the shopping cart, you have the option of entering the coupon code at the bottom left on the next page. If the voucher is still active, the price will be reduced immediately.
Gearbest points
---
Gearbest offers a points system to reward regular customers with discounts. 50 points correspond to a discount of € 1. The points are awarded for placing orders, product reviews, product images or videos and other small things. You also get the euro amount converted into points for each order. So if you order € 300, this means 300 GB points, or € 6. It should be noted that the points collected can only give a discount of 30% and that the points cannot be combined with voucher codes. The points also have an expiry date of one year.
Payment options
---
As Gearbest sells all over the world, all conceivable means of payment can be found on the website. Only paying with cryptocurrencies such as Bitcoin is not available. For most customers, payment by instant transfer, PayPal, bank transfer and credit card (Visa & Mastercard) is particularly relevant. We recommend that you always pay for your Gearbest orders with PayPal, as you benefit from PayPal Buyer Protection for an additional 180 days.
Our experience with Gearbest
---
Gearbest is now the first point of contact for orders from China. The online shop owes this to its low prices and good shipping options. Our customers have also placed many orders with Gearbest and have had our goods delivered to our front door by Germany Express without any further ado. Even orders for test devices such as electric scooters or televisions have always worked out smoothly. As far as online support for orders is concerned, there is always room for improvement, but most customers are still satisfied even in warranty cases. We can therefore rate Gearbest.com as a trustworthy online shop and make our recommendation.