High-Performance, Low-Cost: The Best Chinese Phones Under $400
Realme GT 2
---

CPU: Snapdragon 888 - 1 x 2.84GHz + 3 x 2.42GHz + 4 x 1.8GHz

RAM: 12 GB RAM or 8 GB RAM

Display: 2400 x 1080, 6.6 inch 120Hz (AMOLED)

OS: Android 12, RealmeUI

Battery: 5000 mAh

Camera: 50 MP

+ 8MP (dual) + 2MP (triple) Front camera: 16 MP

LTE: Yes - 1, 2, 3, 4, 5, 7, 8, 12, 13, 17, 18, 19, 20, 26, 28, 66, 38, 39, 40, 41

SIM: Dual - nano

Memory: 128 GB or 256 GB 

Expandable memory: No

Weight: 195 g

Dimensions: 162.9 x 75.8 x 9 mm

Antutu: 854601

---

high and constant performance

excellent battery life

only 39 minutes charging time non-slip

and resistant to fingerprints

bright and smooth 120Hz OLED display

good main camera (day and night)
OnePlus Nord 2
---

CPU: MediaTek Dimensity 1200 - 1 x 3.0 GHz + 3 x 2.6 GHz + 4 x 2.0 GHz

RAM: 12 GB RAM or 8 GB RAM

Display : 2400 x 1080, 6.4 inch 90Hz (AMOLED)OS: Android 11

Battery: 4500 mAh

Camera: 50 MP + 8MP (dual) + 2MP (triple)

Front camera: 32 MP

LTE: Yes - 1, 2, 3, 4, 5, 7, 8, 12, 17, 18, 19, 20, 26, 28, 32, 34, 66, 38, 39, 40, 41

SIM: Dual - nano

Memory: 128 GB or 256 GB

Expandable memory: No

Weight: 189 g

Dimensions: 159 x 73 x 8.3 mm

Antutu: 680000

---

brute performance

lightning-fast OxygenOS system

chic design

great photos and videos

good battery life & 65 watts

full equipment

good stereo speakers

great value for money
OnePlus Nord 2T 5G
---

CPU: MediaTek Dimensity 1300 - 1 x 3.0 GHz + 3 x 2.6 GHz + 4 x 2 ,0GHz

RAM: 12 GB RAM or 8 GB RAM

Display: 2400 x 1080, 6.4 inch 90Hz (AMOLED)

Operating system: Android 12, Oxygen-OS

Battery: 4500 mAh

Camera: 50 MP + 8MP (dual) + 2MP (triple )

Front camera: 32 MP

LTE: Yes - 1, 2, 3, 4, 5, 7, 8, 12, 17, 18, 19, 20, 28, 34, 38, 39, 40, 41

SIM: Dual - nano

Memory :

Expandable memory: No

Weight: 190 g

Dimensions: 159 x 73.2 x 8.4 mm

Antutu: 600267

---

top performance Lightning

-fast system




stylish design + solid workmanship




good stereo speakers




first-class photos day and night (main camera)




good display state -of-the

-art connectivity

good battery life

90Hz not up -to

-date moderate UWW camera
Poco F4
---

CPU: Snapdragon 870 - 1 x 3.2GHz + 3 x 2.42GHz + 4 x 1.8GHz

RAM: 6GB RAM or 8GB RAM

Display: 2400 x 1080, 6.7 inch 120Hz (AMOLED)

Operating system: Android 12, MIUI

Battery: 4500 mAh

Camera: 64 MP + 8MP (dual) + 2MP (triple)

Front camera: 20 MP

LTE: Yes - 1, 2,

3, 4, 5, 7, 8, 12, 17, 18, 19, 20, 26, 28, 38, 40, 41

SIM: Dual - nano

Memory: 128 GB or 256 GB 

Expandable memory: No

Weight: 195 g

Dimensions : 163 x 76 x 7.7 mm

Antutu: 736213

---

extremely bright 120Hz AMOLED display

very good videos with the main camera (4K60FPS)

very good stereo speakers

high-quality workmanship

full connectivity

no headphone connection

no memory expansion



Xiaomi 11T
---

CPU: MediaTek Dimensity 1200 - 1 x 3.0GHz + 3 x 2.6GHz + 4 x 2.0GHz

RAM: 8 GB RAM

Display: 2400 x 1080, 6.7 inch 120Hz (AMOLED)

Operating system: Android 11

Battery: 5000 mAh

Camera: 108 MP + 8MP (dual) + 5MP (triple)

Front camera: 16 MP

LTE: Yes - 1, 2, 3, 4, 5, 7, 8, 12, 13, 17, 18, 19, 20, 26, 28, 32

SIM: Dual - nano

Memory: 128 GB or 256 GB

Expandable memory: No

Weight: 203 g

Dimensions: 164 x 77 x 9 mm

Antutu: 573500

---

excellent 120Hz AMOLED display

good stereo speakers

excellent performance

good workmanship + chic Theme

MIUI with 3 years updates

nice videos and photos (main camera)

good battery life & 67 watts

no OIS for the main camerano 

3.5mm headphone jackno 

memory expansion

average ultra wide-angle camera
Redmi Note 11 Pro+ 5G
---

CPU: MediaTek Helio G96 - 2 x 2.05GHz + 6 x 2.0GHz

RAM: 6 GB RAM

Display: 2400 x 1080 120Hz (AMOLED)

Operating system: MIUI

Battery: 5000 mAh

Camera: 108 MP + 8MP (dual) + 2MP (triple)

Front camera: 16 MP

LTE: Yes - 1, 2, 3, 4, 5, 7, 8, 12, 13, 17, 20, 26, 28, 32, 66, 38, 40, 41

SIM: Dual - nano

Memory: 128 GB or 64 GB

Expandable memory: Hybrid

Weight: 202 g

Dimensions: 164.2 x 76.1 x 8.1 mm

Antutu: 329428

---

excellent display (AMOLED + 120Hz)

fast fingerprint sensor

fast loading time

reliable connectivity

stereo speakers

memory expansion, NFC, headphone connection
Poco X4 Pro 5G
---

CPU: Snapdragon 695 - 2 x 2.2 GHz + 6 x 1.7 GHz

RAM: 6 GB RAM or 8 GB RAM

Display: 2400 x 1080, 6.7 inches 120Hz (AMOLED)

Operating system: Android 11, MIUI

Battery: 5000 mAh

Camera: 108 MP + 8MP (dual) + 2MP (triple)

Front camera: 16 MP

LTE: Yes - 1, 3, 7, 8, 20, 28, 38, 40, 41

SIM: dual - nano

Memory: 128 GB or 256 GB

Memory expandable: hybrid

weight: 209 g

dimensions: 164 x 76 x 8.3 mm

Antutu: 396700

---

smooth (120Hz) and bright AMOLED display

good cameras ( main and selfie)

memory expansion, NFC, headphone connection

Stereo speakers

good performance

flawless fingerprint scanner

strong battery life

strong battery life

fully charged in 40 minutes

only 1080p/30FPS video recordings

large, heavy
Realme GT Master Edition
---

CPU: Snapdragon 778G - 4 x 2.4 GHz + 4 x 1.8 GHz

RAM: 6 GB RAM or 8 GB RAM

Display: 2400 x 1080, 6 .4 inch 120Hz (AMOLED)

OS: Android 11, RealmeUI

Battery: 4300 mAh

Camera: 64 MP + 8MP (dual) + 2MP (triple)

Front camera: 32 MP

LTE: Yes - 1, 2, 3, 4, 5, 7 , 8, 12, 17, 18, 19, 20, 26, 28, 38, 39, 40, 41

SIM: Dual - nano

Memory: 128 GB or 256 GB

Expandable memory: No

Weight: 176 g

Dimensions: 159.2 x 73.5 x 8 mm

Antutu: 517176

---

flawless 120Hz AMOLED display

charged in 30 minutes

strong reception

good photos in daylight

strong videos with Full-HD 60FPS
Xiaomi 11 Lite 5G NE
---

CPU: Snapdragon 778G - 4 x 2.4 GHz + 4 x 1.8 GHz

RAM: 6 GB RAM or 8 GB RAM

Display: 2400 x 1080, 6.6 inch 90Hz (AMOLED)

Operating system: Android 11 , MIUI

Battery: 4250 mAh

Camera: 64 MP + 8MP (dual) + 5MP (triple)

Front camera: 20 MP

LTE: Yes - 1, 2, 3, 4, 5, 7, 8, 12, 13, 17, 18, 19, 20, 26, 28, 32, 66, 38, 39, 40, 41

SIM: Dual - nano

Memory: 128 GB or 256 GB

Expandable memory: hybrid

Weight: 158 g

Dimensions: 160.5 x 75.7 x 6.9 mm

Antutu: 442947

---
Xiaomi Redmi Note 10 Pro
---

CPU: Snapdragon 732G - 2 x 2.3GHz + 6 x 1.8Ghz

RAM: 6 GB RAM or 8 GB RAM

Display: 2400 x 1080, 6.7 inch 120Hz (AMOLED)

Operating system: Android 11, MIUI

Battery: 5020 mAh

Camera: 108 MP + 8MP (dual) + 5MP (triple)

Front camera: 16 MP

LTE: Yes - 1, 2, 3, 4, 5, 7, 8, 20, 28, 32

SIM: Dual - nano

Memory: 128 GB or 64 GB

Memory expandable: Yes

Weight: 193 g

Dimensions: 164 x 76.5 x 8.4 mm

Antutu: 336460

---

chic design (thinner and lighter)

excellent 120Hz FHD AMOLED display

good stereo sound rock-solid

performance

high-quality workmanship

good cameras (main and selfie)

NFC, dual SIM & memory expansion
The best (upper) middle class smartphones: What the best Chinese phones under $400 ?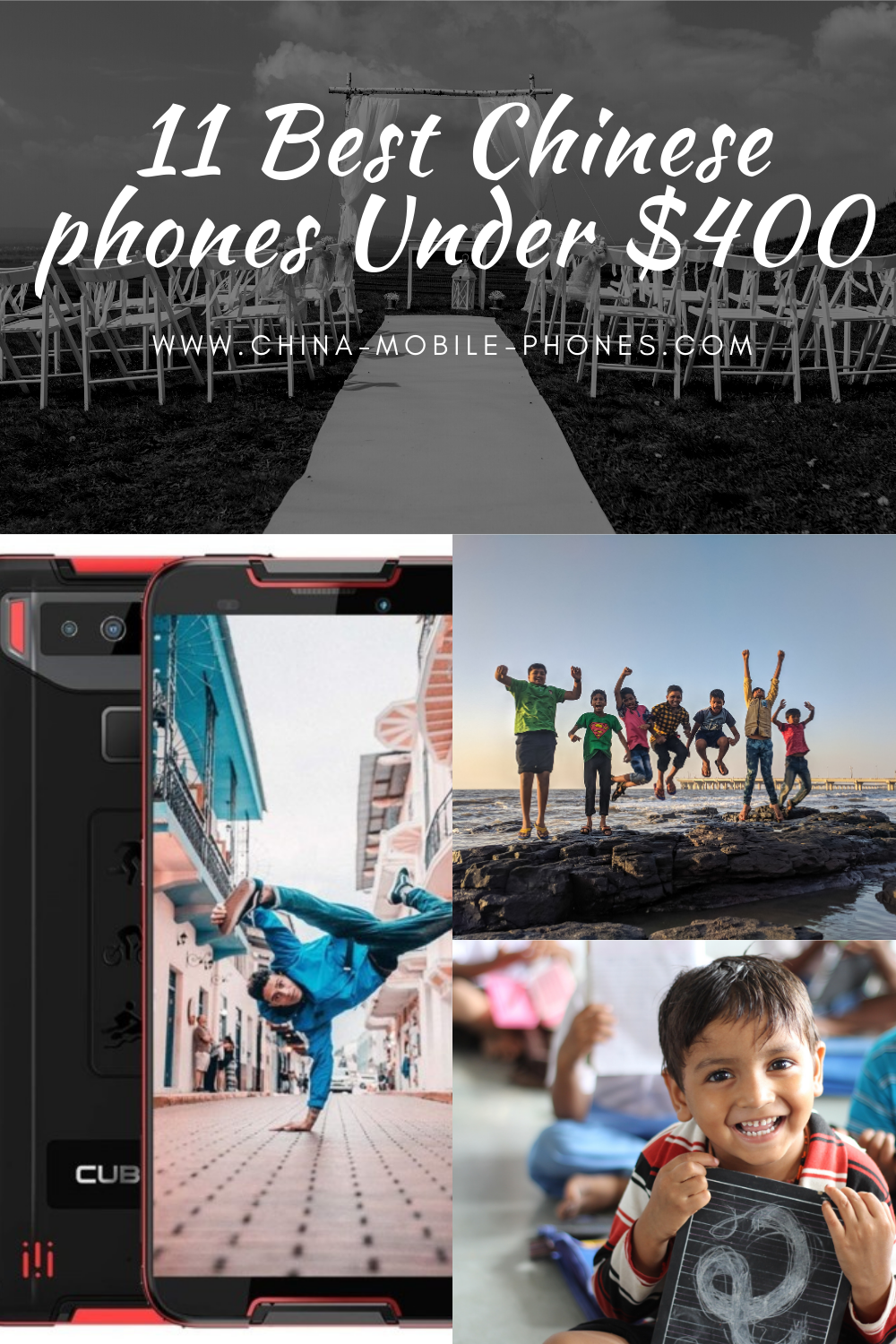 Here you will find the top 10 Chinese cell phones in the price range 200-400 USD, arranged in a ranking list. Here you will find mid-range smartphones, such as the Redmi Note series, as well as the upper mid-range, which makes a flagship smartphone superfluous for many users. 
The price between 200-400 USD is very competitive between the Chinese mobile phone manufacturers, which means that you can find a very good price / performance ratio here. 
The mobile phones listed here have fast octa-core processors, mostly from Qualcomm Snapdragon, a large memory with at least 4GB RAM, good cameras, usually with more than one sensor, and a Full HD display, some with an AMOLED panel. 

A lot has happened with the camera, especially in the middle class. The Sony flagship sensor is also often used here, so the daylight recordings can compete with the high-end smartphones. The trend towards several sensors is also continuing: in addition to the bokeh sensor for portraits, an ultra-wide-angle camera, telephoto or macro sensor is also often used. 

The processing quality of the cell phones is also very high and there is no visual difference to much more expensive cell phones. So if you are looking for a smartphone with very good performance for less money, this is the right place for you. 

On the devices listed here, all apps and applications run at a very high speed and without noticeable waiting times. A large number of applications can be used at the same time without slowing down. When using the basic functions, there is hardly any great difference to the latest high-end smartphones with twice the price. The smartphones on this list of the best are also suitable for games and are therefore also suitable for smartphone gamers. 

All prices quoted are final prices, including customs duties (import sales tax 19%) and express shipping. Furthermore, all China mobile phone shops integrated in the price comparison are reputable, trustworthy providers with mostly positive reviews on the internet. You can find all information and buying tips for the shops in our shop list [ China mobile phone shops in comparison ]
From Best Chinese Phones Under $400 to Home