Geekbuying Review
Rating
4/5 stars 
with over 8352 reviews
          Shipping methods
Registered Airmail (15-30 days 

EU Priority Line / HKEU Priority Line (7-15 days) 

DHL Express (3-5 days) 

DHL for deliveries from EU warehouses
* If you are not sure what the duty free shipping is, here is the info..

         Advantages
EU warehouses

Cheap prices

Good service
        Disadvantages
Confusing product categories



          Services
1 year warranty 

English customer service 

Shipping from Europe and China
        More info
Support languages

 EN

Duty free shipping method Yes
Warranty 12 months
Website languages 

EN & 

Translation
The online shop Geekbuying was founded in 2009 and is one of the largest export-based Chinese online stores. The product range includes all important electronic products from the field of smartphones, tablets, notebooks and electronic gadgets. In addition to good customer service, Geekbuying also distinguishes itself through its very good contacts with the manufacturers of Chinese smartphones, which ensure that new products are often the first in stock here. This is especially true for the popular Xiaomi smartphones. In addition to a Chinese department store, Geekbuying has other dispatch warehouses in Germany, Italy, the USA, Poland, England and Spain. Geekbuying's website and customer service are in English. There is also a German translation, but this is not really useful.

Online shop and department stores
---
As already mentioned, the product range actually includes all of the major Chinese electronics products. The product descriptions at Geekbuying are reliable and the online shop has overall good knowledge of the devices it sells. However, the selection of various department stores is less clear. For example, all department stores are often listed on the product page of the individual items and, for even greater confusion, all memory versions of a smartphone are also listed as sub-items. To find out whether a certain product is in stock at Geekbuying, you have to click through the individual department stores and product versions.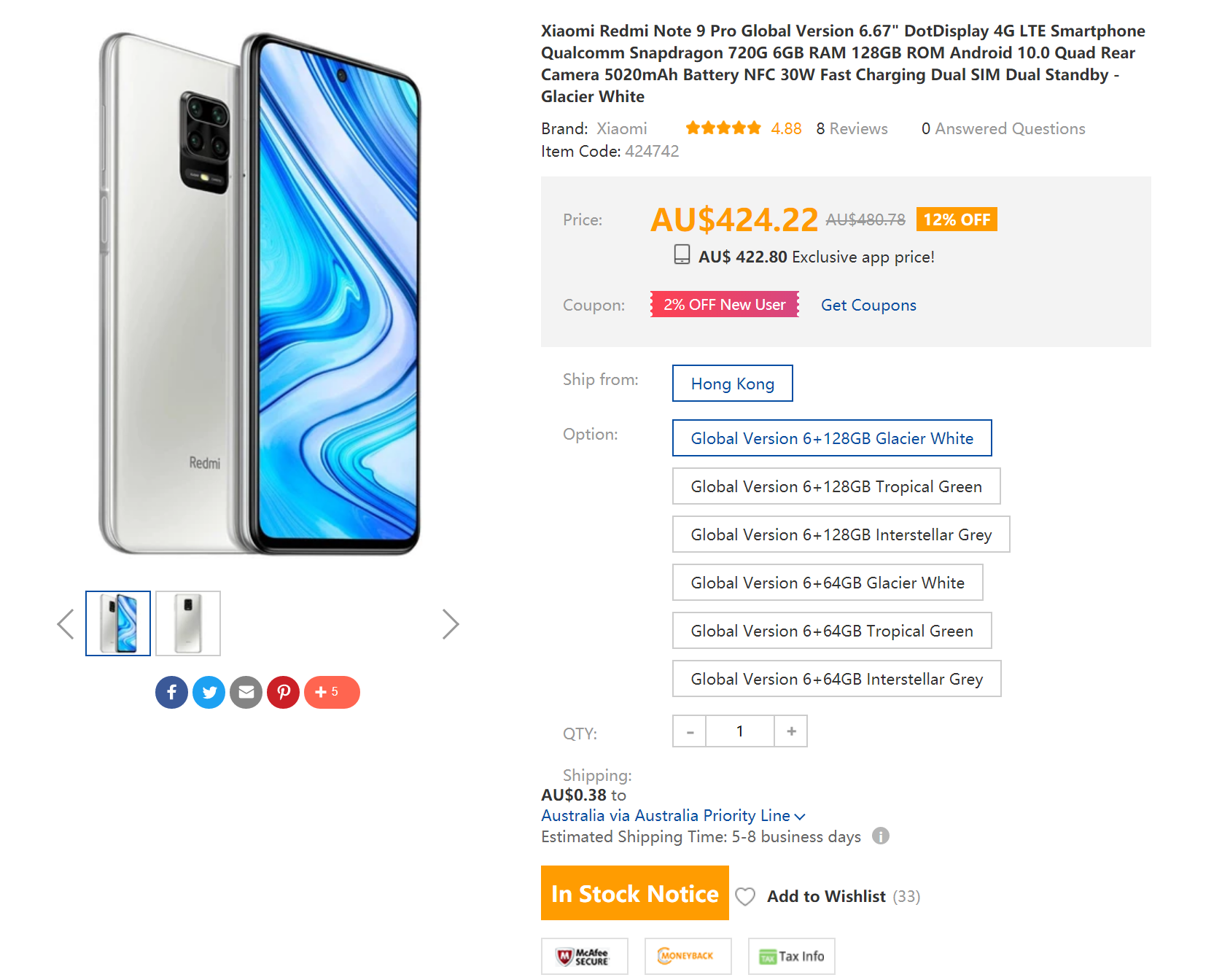 If the yellow button under the product image says Add to Cart, the device is available, but if In Stock Notice appears, this means that the smartphone is currently not available in this department store. A pleasant shopping experience looks different, of course, but due to a large number of European warehouses, the motto search, find applies.

Shipping and Customs
---
Shipping from China
The shipping options at Geekbuying are also a bit confusing at first glance. You have to know that the online shop offers different shipping methods for products from the Hong Kong warehouse and the China warehouse. The following shipping options are available for products from China:

Registered Airmail (15-30 days)
EU Priority Line (7-15 days)
DHL Economy (5-10 days)
DHL Express (3-5 days)
The shipping methods from the Hong Kong warehouse are:
Registered Airmail (15-30 days)
HKEU Priority Line (7-15 days)
HKDHL Express (3-5 days)
As confusing as this selection may seem at first glance, it is so easy to choose the right shipping method. For very cheap products with a value of less than € 26, we recommend free shipping Registered Airmail. If you order a more expensive product such as a mobile phone or tablet, you should select EU Priority Line or HKEU Priority Line. With this shipping method, the online shop pays customs costs. The product is first sent to an EU third country and imported there. The shipment is then forwarded with UPS to the buyer, who then receives the ordered product at no additional cost. For mobile phones, these two shipping methods are the tip of our editorial team due to the great cost savings. If you want to receive your shipment particularly quickly, you can also order via DHL Express. Then the import costs have to be paid in cash at the doorstep.

Shipping from Europe
Shipping from Europe is easier than shipping from China. If you choose a product that is available in a German department store, the shipment will be delivered free of charge. Geekbuying usually ships with DHL, so that the ordered device is at your doorstep within a few days.
Orders that are delivered from other department stores within Europe are also sent with DHL by Geekbuying. However, shipping costs of around 10 € are added to the device price. Of course, you don't have to worry about customs costs for deliveries from Europe. Shipping from the new Poland warehouse is also free.

Warranty
---
Geekbuying.com offers a one year warranty on all electronic products. So if problems arise with an ordered device, you have twelve months to return the product. The online shop will then take care of repairs or replacements. The repair costs are completely covered by Geekbuying. Up to a month, after the order is placed, the online shop will also cover the costs of transport there and back. In the period between one and six months, the buyer only has to pay the costs for the shipment to China and the shop pays for the return transport. During the warranty period between six and twelve months, the buyer must pay all shipping costs.

Payment
---
Geekbuying offers the most important payment options. Payments are possible via Paypal, credit card (Visa, Master Card, American Express, Discover), Western Union and bank transfer. We recommend that you always pay for your order with PayPal, as this allows you to fall back on PayPal Buyer Protection in case of doubt.
Vouchers and coupons
---
As with most online shops from China, Geekbuying.com regularly offers coupons and voucher codes with which certain products can be ordered at a discount. An overview of the current promotions and vouchers can be found on the start page of the online shop. Before placing an order, it is worth taking a look at this. In addition to the promotional campaigns on the home page, there is also a voucher code with a 4% discount on the order when you register for the newsletter. You can find the box for registration on the bottom of this page:
In addition to the promotional campaigns on the home page, there is also a voucher code with a 4% discount on the order when you register for the newsletter. You can find the box for registration on the footer of this page:
Our experience with Geekbuying.com 
---
Geekbuying is a reputable online shop with many years of experience and good prices. The online shop system is sometimes a bit opaque, but with a little patience, very good offers can be found. Our customers have already ordered several times from Geekbuying ourselves. The devices were always well packaged and delivered quickly. In addition, you can use the duty-free shipping methods so that the import costs are covered by the online shop. Based on our positive experience, we can make a clear recommendation for geekbuying.