Tomtop.com experience & ratings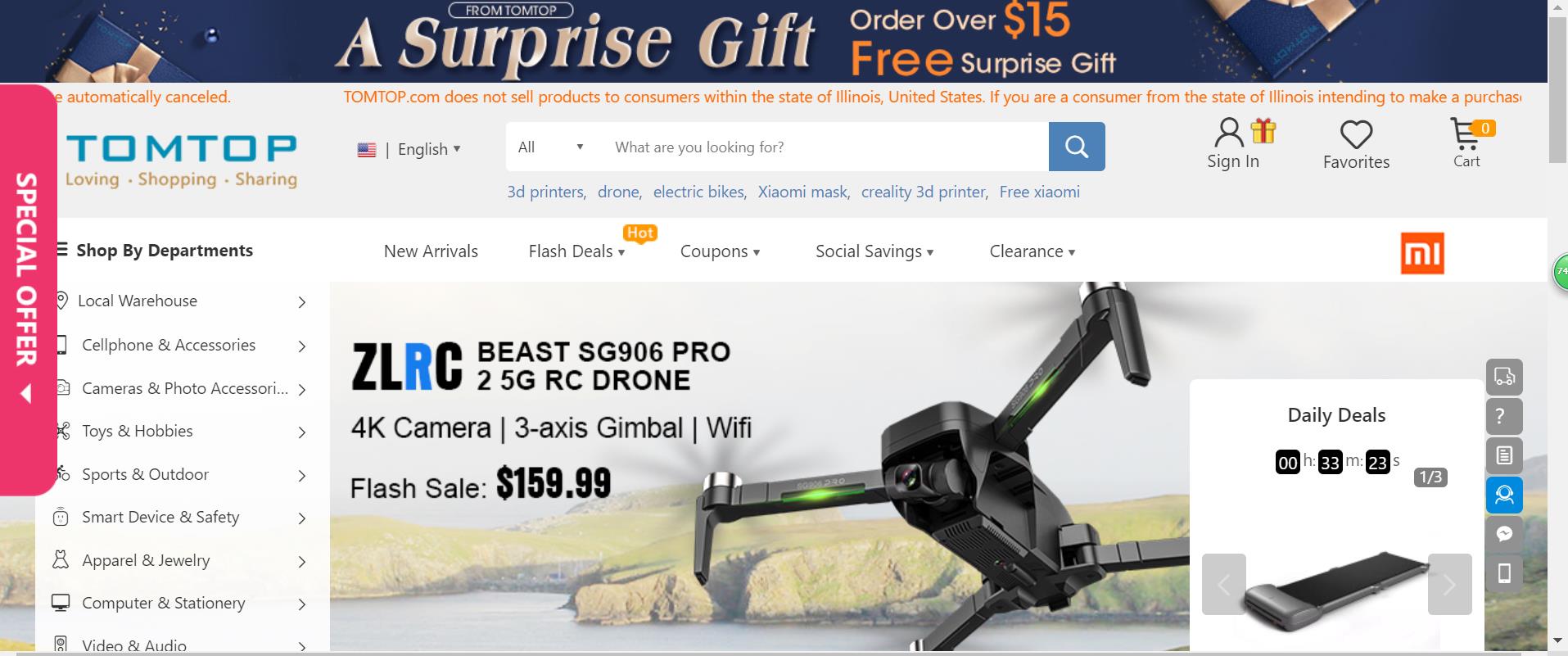 Rating
4.5/5 stars 
with over 9123 reviews

          Shipping methods
Standard Shipping (15-25 days) 

Duty-Free Shipping (7-15 days) 

Expedited Shipping (3-7 days)
* If you are not sure what the duty free shipping is, here is the info..

         Advantages
EU dispatch warehouse 

Cheap prices 

Good service
          Services
14 days right of return 

1-year warranty 

English customer service
        More info
Support languages

 EN

Duty free shipping method Yes
Warranty 12 months
Country Websites   

8
Tomtop is one of the largest export-based online shops from China with 8.5 million visitors a month. Tomtop's range includes a gigantic selection of products from different categories. In addition to electronic products such as mobile phones and tablets, the shop is also known for furniture, camping accessories, jewellery and clothing. In addition to a large warehouse in China, Tomtop also has numerous European warehouses, including in Germany, France, Spain, Italy, England and Austria.

Shipping and Customs
---
Shipping from China
Tomtop usually offers three different shipping dates for orders from China. These are:
Standard Shipping (15-25 days)
Duty-Free Shipping (7-15 days)
Expedited Shipping (3-7 days)
The best shipping method to choose depends on which product you want to buy. For cheap products with a value of less than € 26, it is advisable to choose free standard shipping. The delivery takes place by airmail directly from China to Germany and usually takes 20 days. If one does not choose products at a higher price, it is very unlikely that a trip to the customs office is necessary.

For more expensive products, we recommend ordering via Duty-Free Shipping. As the name suggests, it is a duty-free shipping method. This works because Tomtop first sends the consignment to an EU third country and imports it there. The shipment is then sent on to the buyer, who receives it at no additional cost. The shipping method Duty-Free Shipping is the same as the popular Germany Express Shipping from Gearbest.
With the shipping method Expedited Shipping, the shipment is sent via DHL Express. This has the advantage that the delivery time is only a few days (even if Tomtop specifies a longer delivery time). Before ordering, however, you should be clear that for delivery with DHL Express 19% import sales tax plus € 13 capital provision commission must be paid.
Shipping from Europe
In addition to the large warehouse in China and Hong Kong, Tomtop operates other warehouses in several countries within Europe. For countries outside of Germany, shipping costs of around 8 euros are charged. Shipping to Germany is usually done by DHL. Deliveries from the German warehouse are free at Tomtop.

Guarantee and right of return
---
All products that are ordered from Tomtop can be returned free of charge 14 days after receipt. It should be noted, however, that the buyer pays for the return shipping costs. In addition, Tomtop offers a one-year guarantee for the order. If a problem occurs with the device, a warranty claim must be made in the customer centre and a photo or video of the item sent as proof.
A repair order is then usually initiated within a few days. The buyer must bear the cost of shipping to China, while Tomtop bears the return costs after the repair or replacement. In the case of less expensive products, the online shop may simply send out a replacement device after appropriate evidence has been provided that the device is defective.
Payment options
Tomtop offers all common payment options in Germany. The offer includes bank transfer, PayPal, credit card (Visa, American Express, Mastercard) and instant transfer. We always recommend using PayPal to pay, as in this case, you can also fall back on PayPal Buyer Protection.

Coupons
---
As with most online shops from China, Tomtop.com regularly offers coupons and voucher codes with which certain products can be ordered at a low price. An overview of the current deals and vouchers can be found on the home page of the online shop. Before you place an order, it's worth taking a look.
Also about the current offerings of Tomtop.com, you can check out on our supply-side information. (Coming soon)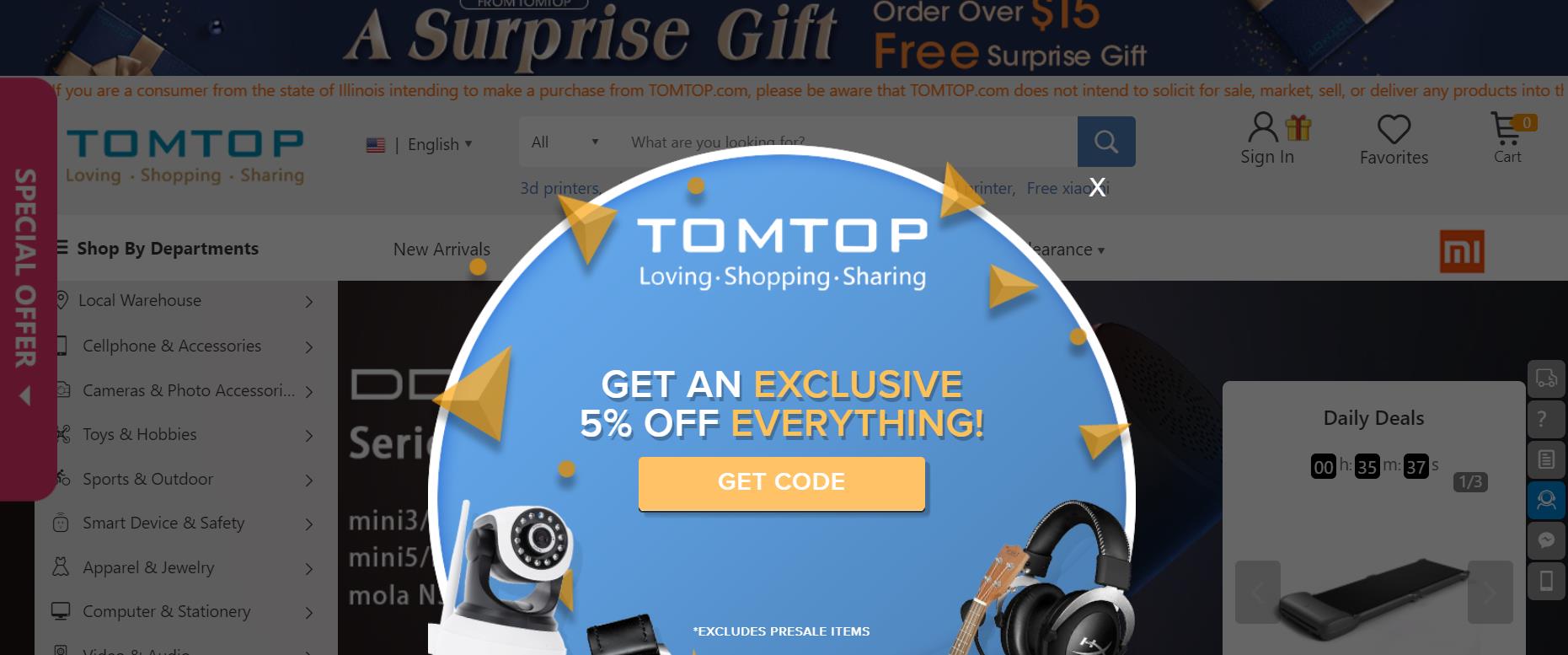 Our experience 
---
Tomtop Tomtop is a very large and trustworthy online shop. Unfortunately, Tomtop is somewhat overshadowed by Gearbest and is not yet too well known among buyers. The duty-free shipping and the warehouse are actually strong arguments for the online shop. Our customers have already ordered several times from Tomtop and all products have been properly shipped.