Cect-Shop Review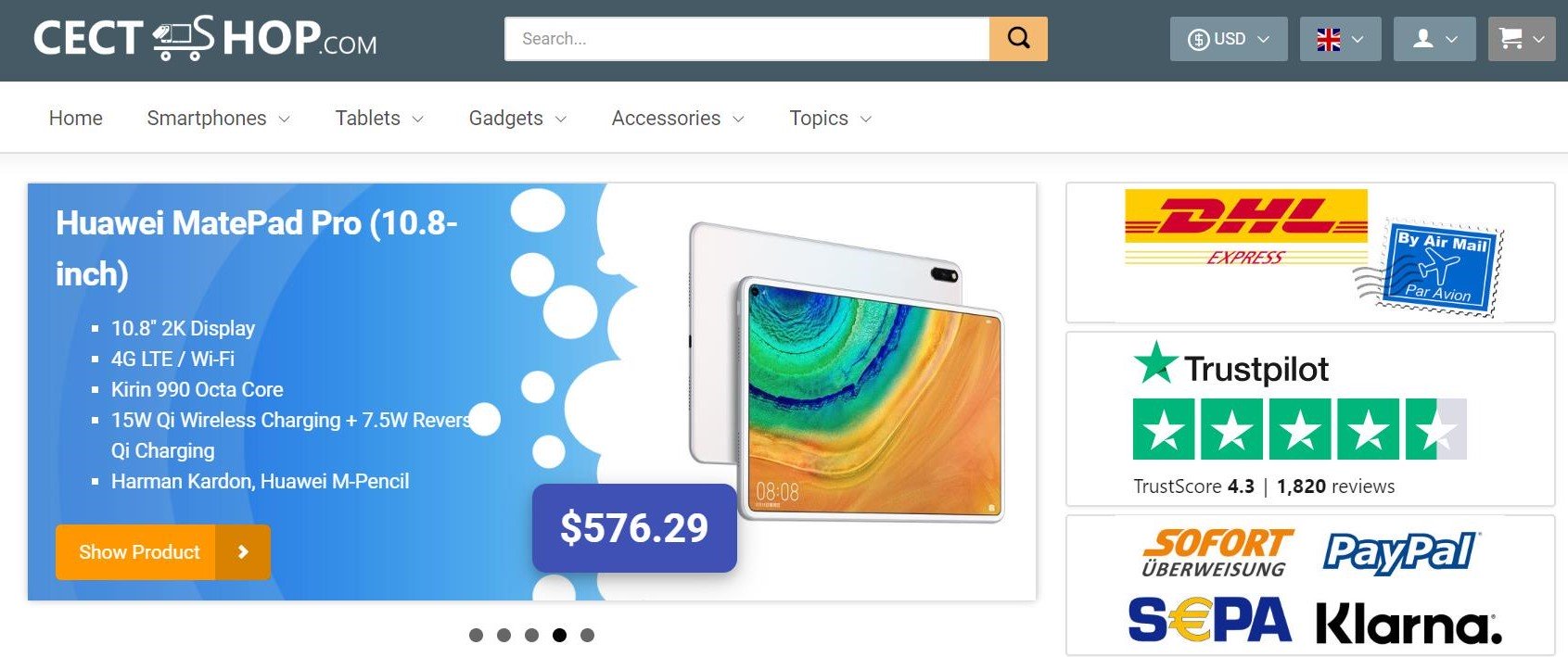 Rating
4.5/5 stars 
with over 396 reviews

          Shipping methods
EU Priority Line (7-15 days, duty free) 

DHL Express (2-3 days)
* If you are not sure what the duty free shipping is, here is the info..

         Advantages
German support 

Normal prices 

Shipping faster 

Very good service
          Services
German customer service 

12 months guarantee
Is the Cect-Shop reputable, legal and safe? 
---
The Cect-Shop.com is a shop for China cell phones that offers customers an advantage in this country, especially through its German website and German support.  Cect-Shop is based in China, but the online shop there is managed by a German managing director. If you order your Chinese mobile phone from the CECT shop, you can be sure of very good service. However, the price is often a few euros above the competition.

Shipping methods 
---
CECT-Shop has recently started offering duty-free EU Priority Line shipping. With this shipping method, the online shop imports the shipment and the order is delivered to the customer free of charge. Please note, however, that EU Priority Line shipping is not available for all products at CECT-Shop. 
EU Priority Line should be available for the items from the brands Xiaomi, Meizu, Vivo, Oppo, Teclast, Chuwi, Nubia, Huawei and OnePlus.
Alternatively, you can order your items via DHL Express. If you choose express shipping (DHL), delivery usually only takes 7-10 working days. Cell phones that are ordered with DHL Express in the Cect shop are shipped from China and there are 19% import sales tax plus € 12.50 capital provision fee. 
Occasionally the shop also offers vouchers and discount codes. It only takes 2-4 days to dispatch and delivery is made with DHL Express for € 10 (2-4 days delivery time). In individual cases, attention should be paid to the information on availability. The corresponding ROM for Xiaomi devices can also be selected at the CECT shop.
Customs fees can be paid at your doorstep. The reviews and experiences with Cect-Shop in various portals and forums give a very good picture. The Cect shop, which has existed for 6 years, was once one of the most popular China online shops. The CECT shop is the only China shop to offer customer support in good German. 
What should you pay attention to when buying?
---
The quick and easy contact in German is likely to be a great advantage for many customers. In contrast to many other Chinese online shops, CECT-Shop is very keen to ensure that its customers are satisfied. The good service was able to bring steady growth to the online shop, although the prices are sometimes higher than those of the competition. When ordering, you should note that not all products are delivered with duty-free EU Priority Line / Germany Express shipping and that customs costs are borne by the buyer when ordering via DHL Express.
Our customers' previous orders at CECT-Shop have always been delivered quickly and safely, so that we can make a recommendation for the shop, not least based on our positive experience.