China 3G Network
Three Carriers Phone Setting for China 3G



What is 3G?
China 3G was launched in August 2009 by three network operators, China Unicom, China Mobile and China Telecom.
3G stands for the "third generation" of cell phone handsets... (1G was the old analogue system, 2G was the digital handsets that we were using a few years ago, with 2.5G representing handsets with data capabilities over GPRS).
3G is all about data, and letting cell phones and mobile computers surf the 'net using Broadband speeds over a mobile phone network. The features you can get from 3G are as follows:
Super-fast surfing and downloads: 3G offers speeds in the Megabit range not the Kilobit range - offering a much faster download service than we've been used to in China.
Download video: This was the big selling point when 3G launched - the ability to watch streamed video clips on your handset - this can be live TV, sports snippets, music, news headlines, weather forecasts, adult content, or movie trailers.
Video calls: Make and receive video calls to/from other 3G users. See who you're talking to in real time
Pictures: 3G phones can take still digital pictures as well as coping with video. You can send photos to other 3G users, as well as to users with non-3G phones that use MMS. Data speeds are considerably faster than a standard 2.5G MMS phone.
Location-based services: See a map of where you are, and where to find nearest shops, banks, etc (Location info). Some handsets, like the Apple iPhone have built-in GPS for navigation
Games: Download games up to 30 times faster than on a standard GSM phone, and play online games such as Bomberman, Splinter Cell and the old favourite Scrabble.
China 3G Networks:
China's three state-run mobile carriers in August, 2009 completed the first phase of their 3G network deployments. China Telecom's CDMA2000 network now covers 342 cities and is expected to expand to 500 cities by the end of 2009.China Unicom has conducted two phases of WCDMA network deployment, covering 284 cities.
Due to the slow commercialization of TD-SCDMA technology, China Mobile's TD-SCDMA network will expand to a total of 238 cities by the end of this year. 
Network Setting:
China Unicom WCDMA

Wap APN: 3gwap
Username: blank
password: blank
Gateway IP address: 10.0.0.172
Proxy address: 80
Homepage: blank
MMSC: mmsc.myuni.com.cn
China Mobile TD-SCDMA
Wap APN: cmwap
Username: blank
password: blank
Gateway IP address: 10.0.0.172
Proxy address: 80
Homepage: http://wap.monternet.com
MMSC: mmsc.monternet.com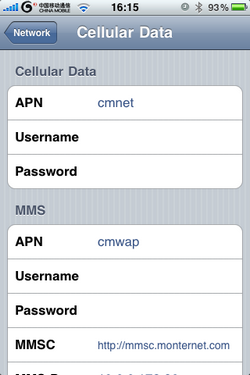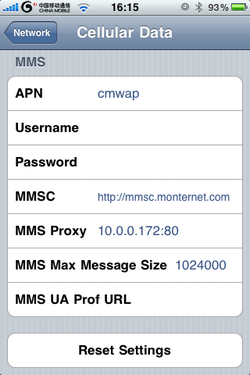 China Telecom CDMA2000
Wap Dial-up number: #777
Username: ctwap@mycdma.cn
password: vnet.mobi
Gateway IP address: 10.0.0.200
Proxy address: 80
Homepage: wap.vnet.mobi
MMSC: mmsc.vnet.mobi
Related Topics:
China 3g SIM Card
This China 3g Sim Card with WCDMA cell phone makes data connection fast when people on move in China...
China Internet Access
Describle different type devices and ways to get on internet in China...
Email in China
You might have experienced difficulties sending emails from your laptop or PDA from more than one location. There is a solution.
China Preapid Data SIM Card for Aircard or PC Card
This SIM and USB or PCMCIA cards let you access the Internet via your labtop while traveling in China.
China GPRS Enabled SIM Card for PDA...
Make calls, receive and send emails on the same device - your mobile phone.
AirCard Rental for Laptops
Stay connected anywhere in China! No need anymore to look for the Internet Services in the Hotel or for an Internet Café...