Receive China SMS Online 
 Virtual China mobile number
Receive China SMS Online Summary
People living in international locations often need to receive SMS verification codes from some China websites.  However, this verification procedure often fails for two crucial reasons. If the receiving mobile number is not a China number, the SMS may fail to arrive. Also, the user may be using a phone line in an international location without activating roaming.  This article outlines some strategies for resolving such challenges.
You can get a virtual China mobile phone number through an eSender WeChat official account. After that, you can use the WeChat official account to receive China SMS online or even make and receive calls on the eSender App. 
In case you don't have a WeChat account, follow the procedure described below to install the App on your phone.

Use promotion code MA3321 during the signup process to receive a Chinese mobile phone number free for 7 days! After the first recharge, you would receive an additional 30 days for free.
No matter where you are in the world, you can log in to a Chinese website to use the service, receive SMS verification codes, and open China domestic bank accounts. You can also play online games, book air tickets, hotels, and high-speed rail tickets, install Apps, and much more.

Apply now, activate your account immediately, and start using your line. 

Benefits:
You can use WeChat to receive text messages, so you do not need to change your SIM card.

The application procedure is simple and convenient, and your new Chinese number will be reached within minutes.

Receiving SMS is free, and the number is also free for 7 days if you use the promotion code.

You can extend the validity period of the number for long-term use.

The number supports placing and receiving calls.

Protects your personal privacy.
The mobile numbers that receive China SMS online are legitimately issued from any of the China network carriers. It has low renewal fees. It allows you to avoid expensive monthly fees and international roaming charges.

Why eSender's virtual number is safe?
It is safe to use eSender's virtual number because it is secure and private. It is not a temporary phone number. You can keep the number for long-term use. All messages sent through the virtual number are encrypted with 256-bit SSL encryption to ensure that your data remains private and secure.

Overview of the steps for receiving SMS on a Chinese mobile phone number
Register and get a China mobile number immediately.
Contact customer service for real-name registration. To enjoy the 7 days free trial, use

promotion code MA3321

when filling out the form.

Purchase one of the packages (valid for 30 days, 180 days, and 360 days) before the end of the 7-day free trial.
Detailed steps to activate a virtual China mobile phone number to receive China SMS online
Step 1: Scan a QR code from your mobile WeChat account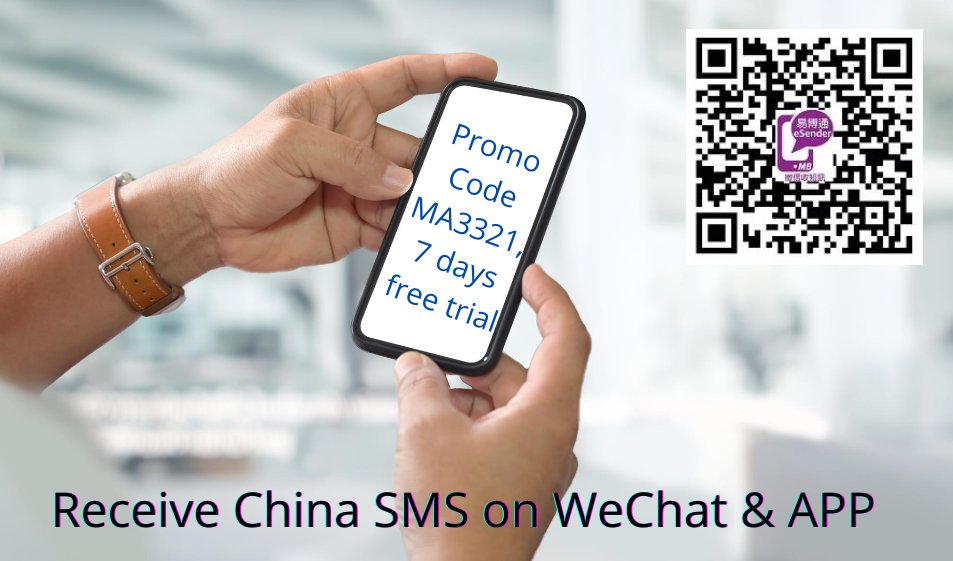 Step 2: 
Click on eSender in the menu bar, then click on the registration Service to apply the service.
Check the page that appears on your phone screen after scanning the QR code. Click eSender to access the Registration Service.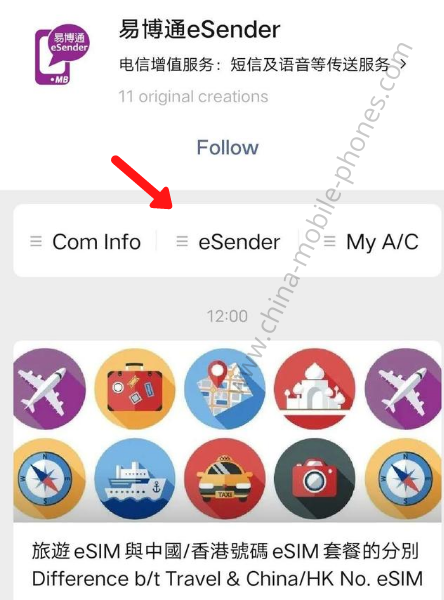 ---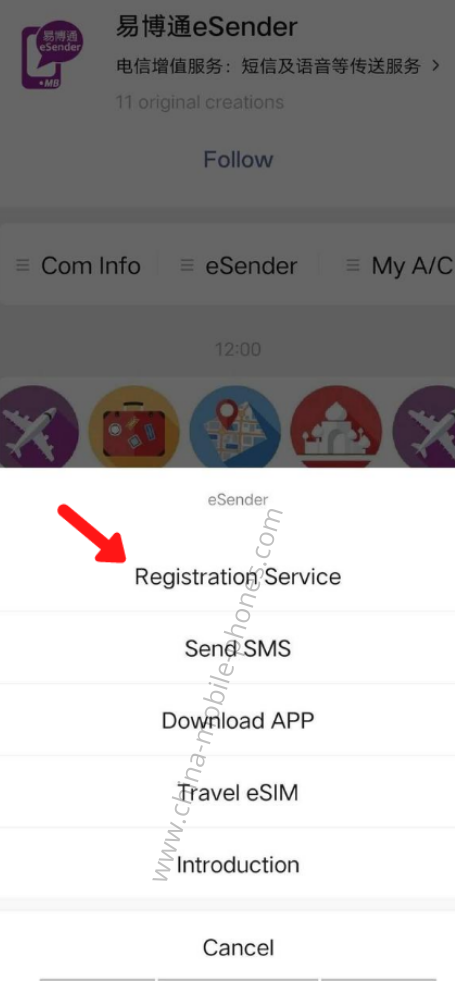 Step 3: Click Mainland China number
After clicking the Mainland China Number, select general number registration.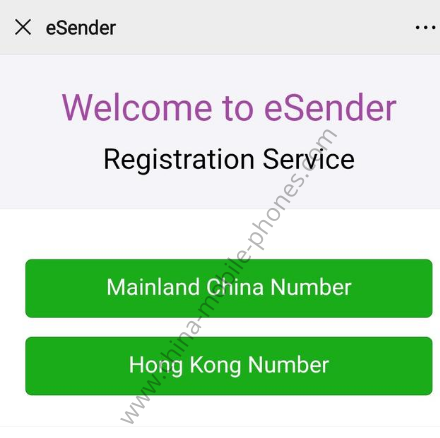 Step 4: 
Fill in personal information
The types of documents can be Chinese ID cards, Hong Kong ID cards, Macau ID cards, Mainland Travel Permits for Hong Kong and Macao Residents, Taiwan Compatriots Permits, or foreign passports.
If you live in a foreign country, the contact phone number can be an international phone number.
Just fill in the promotion code MA3321, you can try it free for 7 days! After the first recharge, you can get an extra 30 days!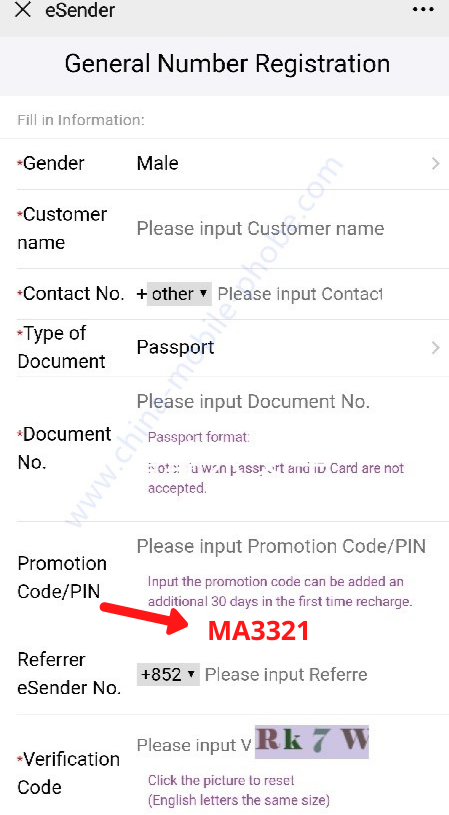 Step 5: 
Confirm the terms of use and submit
After submitting, you will receive your 11 digits China mobile phone number, and you can check the text messages after following the eSender WeChat official account.

Real Name Registration
Going by the laws of the People's Republic of China, it is recommended to purchase the package after real-name registration.
All China phone numbers must be registered under the real-name requirements.
How to do real-name registration & receive a verification code?
1. Prepare your documents:
Take a photo of your ID on your mobile phone. 
Chinese nationality: ID card (requires both sides) or passport;
Hong Kong and Macau residents: ID card, passport, or China visit permit; 
Taiwan: Taiwan compatriot certificate; and 
Other nationalities: Passport
2. Open the dialogue box of the eSender official account:
When you are on the eSender official account, click the small keyboard in the lower left corner, it opens a small window, and write a text to contact customer service.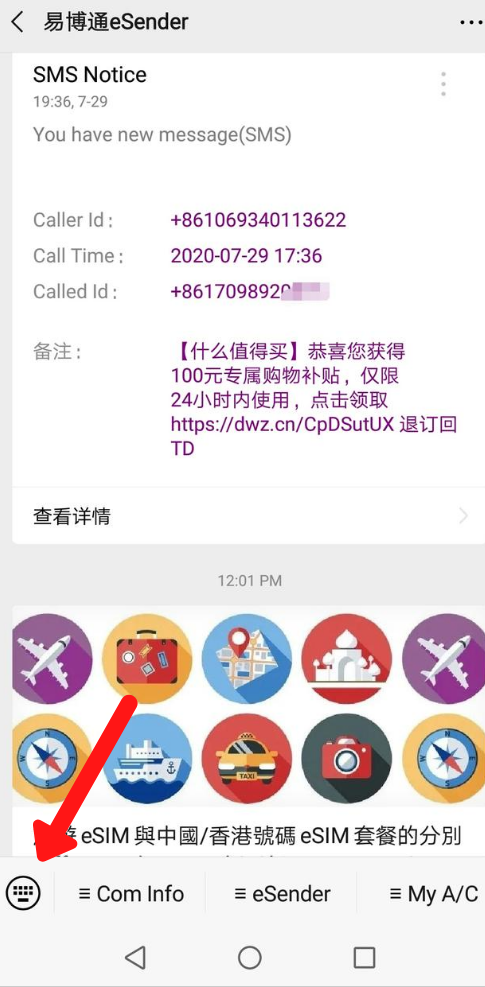 ---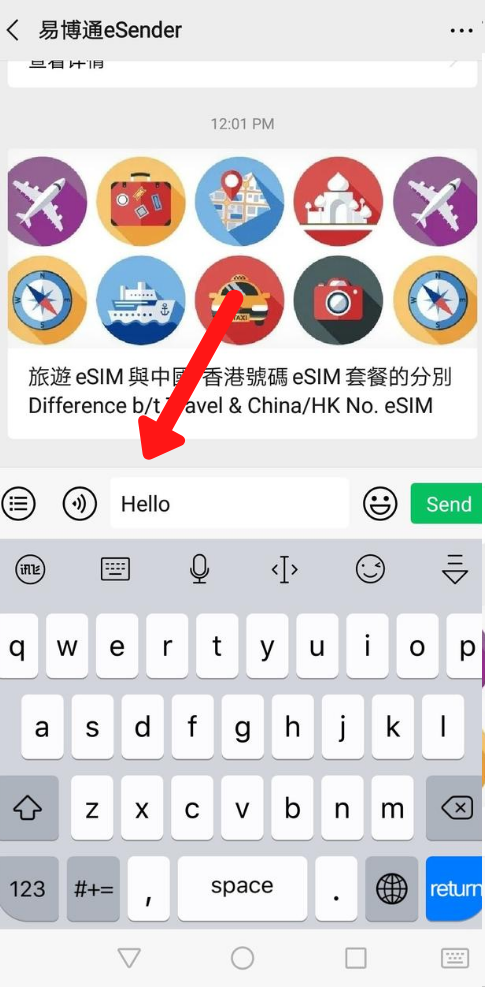 3、Write your request for real-name registration, and the customer service staff will contact you.
Sometimes it may take 10 minutes or longer before customer service replies to your message; please be patient. Customer service would guide you through the procedure for uploading relevant information. Seek support from the customer service personnel if you have any questions. 
Reminder: Don't forget to tell the customer service personnel that you just received your China mobile phone number.

Why do I need to buy a package before the end of the trial period?
All China mobile phone numbers are in short supply. So, the number would only be reserved for validation during the trial period. The phone number will be withdrawn if you did not purchase a package before the trial period expires.  Unfortunately, you may not be able to use the same ID to apply for a phone number in the future.
Fees
China mobile number SMS packages (receive China SMS online):

The validity period of 30 days: HK$28.00 (Approx. US$3.6)
The validity period of 180 days: HK$88.00 (Approx. US$11)

The validity period of 360 days: HK$128.00  (Approx. US$16)

---
Rates of Sending or Receiving SMS:
Receiving SMS is free.
SMS sent to China: HK$1 each, can only be sent to numbers in the format of 12306, 106xxxx, and 9xxxx.
SMS sent to other countries: HK$3 per message.
Call rates:

Receiving calls is free.
Call to  China: HK$0.3/min.
For other countries' rates, please refer to the IDD rates and calling guides. 
Receive China SMS online

 

Setting Tips 
During the application process, you may be asked to download the eSender APP. The primary function of the APP is to send and receive text messages and make/receive calls. Kindly note that the eSender WeChat official account is your eSender account, you can send or receive text messages too. The APP may prompt you to white-list the App before you can use all its features.

How to white list apps?

Click on the phone's settings - Apps and notifications - Notification management - Locate the eSender App- Turn on all permissions. 

You are good to go when you see that the server has connected successfully.
Receive China SMS Online Q & A
If you have more questions, please feel free to contact us.
---
From Receive China SMS Online to Home