Geekmall.eu experience & ratings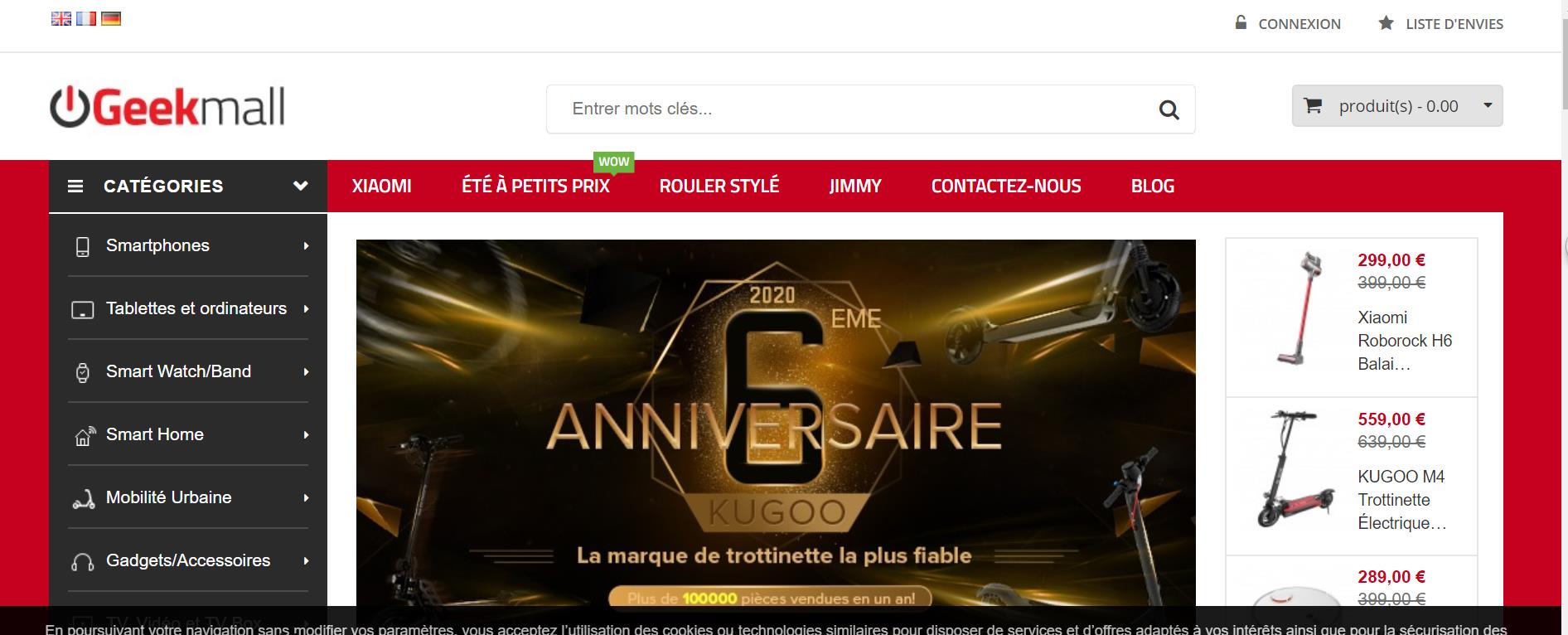 Rating
4.5/5 stars 
with over 752 reviews

* If you are not sure what the duty free shipping is, here is the info..

         Advantages
EU shipping warehouse 

Cheap prices 

Very good service 

Very fast shipping
          Services
14 days right of withdrawal 

2 year guarantee 

Return to Italy
        More info
Support languages

 EN, Fr

Duty free shipping method Yes
Warranty 24 months
Country Websites   

3
Geekmall.eu is a French online shop that specializes in the sale of Chinese smartphones. Geekmall.eu is a partner shop of Honorbuy.com, which is a popular contact point for Xiaomi smartphones from Europe. Similar to Honorbuy, Geekmall.eu only offers larger and well-known brands from China.
Compared to other Chinese online shops, the range is very limited. The online shop is characterized by excellent customer service, which in Europe is probably still topped by Amazon.de and otherwise can keep up with any German online shop. The products are also shipped exclusively from Europe via DHL and only takes a few days.
However, what limits the shopping experience at Geekmall.eu for German customers is the language of the website. Geekmall is currently only available in French. However, you can also contact customer service in English. Anyone who does not find their way around the French language currently only has the option of performing a translation with the Google Chrome browser. However, this function works very well and shopping is usually possible without any problems. To translate the website, just right-click and click 'Translate'.
Guarantee and service
---
Geekmall.eu offers a 2-year guarantee on all electronic devices sold on the website. Most Asian manufacturers of smartphones, tablets and other devices usually only offer one year warranty. Also, at Geekmall it is not necessary to send the ordered product back to China. Since the online shop is based in France, the return will also be made to France.
In addition to the guarantee, Geekmall.eu has a 14-day right of withdrawal. So if you don't like the product you've bought, you can simply send it back. To exercise the right of withdrawal, the item must not show any signs of use.
Overall, the online shop Geekmall.eu is characterized by an excellent range of services and good warranty conditions. You get a high standard delivered here, which also justifies the additional costs compared to the Chinese providers.

Shipping & payment
---
Products ordered at Geekmall.eu are shipped exclusively from the French warehouse. Shipping is done with DHL, which usually only takes 2 to 3 working days. There are of course no customs costs for shipping within Europe. The delivery costs 9 euros for smartphones. Pay at Geekmall.eu is exclusive with PayPal.
Vouchers and coupons
Unlike most Chinese online shops, Geekmall.eu doesn't offer a lot of discounts. If there are any, you can find them on our offer page. However, there are quite often products that are reduced in price. These are presented on the 'Bons Plans' page.

Our experience with Geekmall.eu
---
Although the Geekmall.eu website is only in French, the online shop is a very good choice for the buyers who want to buy a Chinese cell phone with fast delivery and good warranty conditions. This is also shown by the excellent buyer ratings and experiences that Geekmall.eu can claim for itself in the rating portals. You can simply use Google Chrome's translation function to translate the website.