Hong Kong Data SIM Card
- Unlimited Data Plan for 7 Days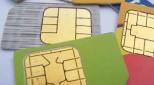 $49.00(Item No. 8)
Coming Soon 
Hong Kong data SIM card is available now for customers with applicable mobile devices who wish to access the internet using their own devices while traveling in Hong Kong. We select an unlimited data usage plan for 7 days in Hong Kong. They are the most ecnomical data plans and support use in whole Hong Kong. If you stay more than 7 days, you may buy two cards or more.
Hong Kong Data SIM Card Product Details:
Download speeds up to 7.2 Mbps, upload speeds up to 5.76Mbps
Frequency: 3G/HSDPA 2100 MHz (WCDMA)
Hong Kong coverage
What Mobile Device You May Use:
IPHONE4/4S/5 or other unlocked smart phones
Ipad
USB modem for laptop, 3G router
Aircard and more mobile devices
Activating Data Service:
When you are in Hong Kong, please put the SIM card in your unlocked cell phone. 
Dial *109#,the card is activated.
Dial *101*832*4# seven days unlimited data plan is activated.
If you use in a Ipad, USB modem or other devices, you may change APN to HKCSL. 
Shipping/Delivery: 
a) Delivery of your Hong Kong Data SIM Card is $15.00 in Hong Kong. 5-6 business days delivery to your hotel/hostel upon your arrival. Before the SIM Pack dispatching, we call hotels/hostels or other delivery destinations to make sure the pack kept upon you arriving. 
Delivery in mainland China is free of charge.
If you wish to have the SIM card delivered elsewhere, please choose a delivery option below. 
b) 7 business days delivery in U.S.A.or Canada (via Fedex or others): $45.00
c) 9 business days delivery in Western Europe, Australia or Japan (via Fedex or others): $45.00
d) Estimated 20 days delivery in U.S.A., Canada, Western Europe, Australia or Japan (via Postal Service Air Mail): $2.85
e) Estimated 4 weeks delivery in the rest of the world (via Postal Service Air Mail): $2.85 
Customers Service Contact:
24-hour customers service hotline 179179 (Hong Kong) 
                                       Your Guide: 
Check if your cell phone unlocked

Find more unlocked cell phones
How to make calls in Hong Kong

More Service for Your International Trip:

Low International Call Service

Return from HongKong Data SIM Card to China Mobile Phones
Didn't find what you were looking for? Use this search feature to find it.