International Call Service



If you want to call international at extremely low rates from any country in the world, then our International Callback service is the perfect option for you!
China Local Phone Number/Other Countries Virtual Number 

If you want to have a unique China or Global phone number that can forward all your calls to any phone number in the world at very low rates, then CallMyGlobal Number service is a perfect solution for you!
If you travel frequently and make lots of international calls, then our Virtual Calling Card will give you what you want: Easy access, low rates, high quality connections!
If you live in the USA and make international calls, then USA Call Connect service is your low cost solution for your international calling!
China or Other Country CallMe800 

Get your toll free number that forwards incoming calls to any phone number in the world!
---
---
Corporate
United World Telecom is a leading switch-based telecommunications service provider, located in Florida, USA, serving retail, wholesale, and corporate customers worldwide. Established in 1996, United World Telecom has rapidly expanded its global presence in the last nine years initially by offering international callback service and later adding wide variety of other services such as international calling cards, direct dial, ANI callback, wholesale international calling, and Web trigger callback.
Ahead of Competition In today's competitive telecom market, companies are increasingly sacrificing call quality in exchange of lower costs and higher profits. At United World Telecom, we believe in maintaining the highest possible call quality even if it means higher cost to us. We value every single phone conversation of our customers and try very hard to provide a pleasant calling experience for each connection on our network. Over the years, our unyielding strive for quality has proven to be our greatest strength.
State-of-the-Art-Technology Thanks to our state-of-the-art network, we connect to multiple tier-one carriers such as AT&T, Sprint, Teleglobe and Global Crossing assuring fast connections and highest quality. Our dialogic switches connected to tier-one underlying carriers via TDM circuits provide reliable and superior connectivity. The quality, reliability and competitive pricing of our services are the keys to our customers' satisfaction and savings across the globe.
A Company You Can Trust We, at United World Telecom, are always striving to provide the highest quality service at the lowest cost, and to provide innovative telecommunications solutions to our agents, resellers and customers. Superior customer service and flexibility is a very important aspect of our business, and we will continue to work hard on growing a united and happy group of customers worldwide.
All Over the Globe Customers of United World Telecom are located in over 150 countries and their profile range from embassies, international organizations, corporate executives, and export-import companies to international business travelers, and expatriates of many nations. Our strong presence in key markets in Europe, the Middle East, Africa, and Asia allows us to deliver superior quality service with deep discounts over local service providers. United World Telecom operates under the approval of the U.S. Federal Communications Commission (FCC) with a Section 214 license.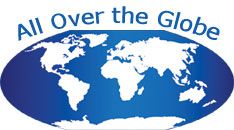 More Service for Your International Trip:

Return from Return call to China Mobile Phones