China Mobile Coverage Information


Operator Name.. China Mobile Communication Corp.
Network Name... China Mobile
Network Type... GSM 900/1800
Handset Code... DGT MPT
Network Code... 460 00
Network Status..Live November 1994
China Mobile has established a comprehensive network with large coverage, high quality, rich variety of businesses and first-class customer services. It ranks the first in the world in terms of the network scale and the customer base.
By the end of 2008, most of the counties (cites) had been covered by the network with seamless coverage on the backbone lines and indoor coverage in urban areas. The switching capacity for GSM mobile phones had reached 182 million and the total number of customers had exceeded 138 million.
China Mobile has opened roaming coverage with over 200 mobile operators in 116 countries and regions in the world.

Coverage Map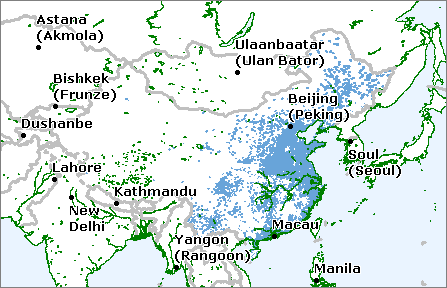 Return to China Mobile
Return to China 5G Plan
Return to China Mobile SIM Card
Return to China Mobile Phones Home