The Best Mobile Apps for Traveling China 


With the many mobile apps, life has become so easy for travelers and the Chinese at large; you don't have to personally be at a place in order to get some service you can as well do it via your smart phone. 
China is considered as the home of technology and inventions. In the modern world nearly 90% of the things used have the famous label, "made in China". In the past many visitors who visited China had trouble in trying to access major basic services like transport services, hotel services and currency exchange services. But with the advent of the mobile technology all these services can be accessed by just a click of a button.
Some of the best mobile apps that China has include the following:
The XE Currency Exchange App
This app enables one to know the various currency exchange rates in China. All you need to do is to log in and select your preferred currency and the exchange rates will be displayed on your smart phone instantly. The good thing about this application is that you can be getting any updates regarding the currency exchange rates. This application is available on iphones, iPads, Android, Windows Mobile, and also Blackberry. The application is free of charge.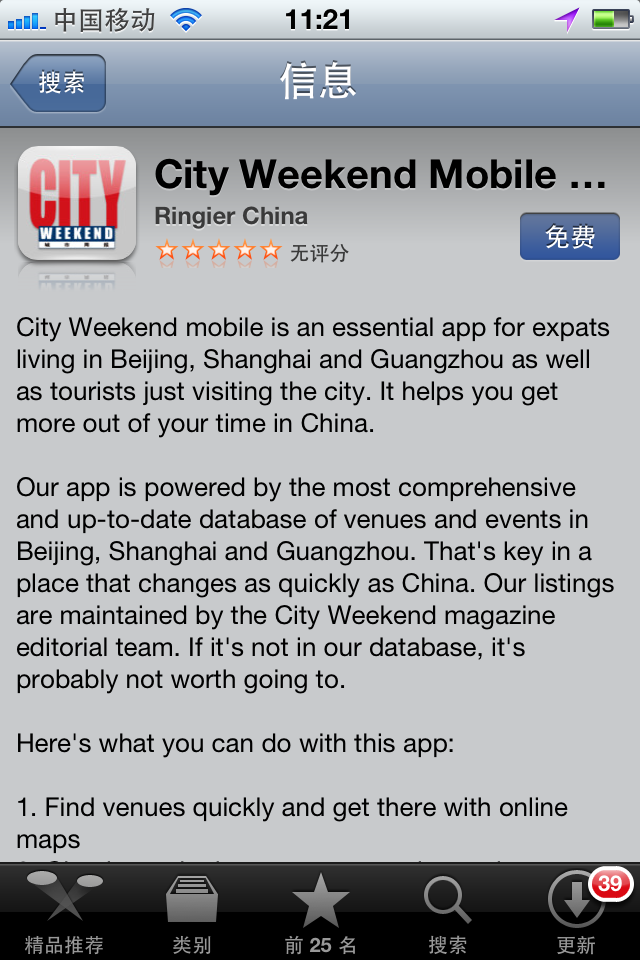 The China Menu Mobile Application
This application basically helps you locate and search for food joints in China. It gives you a full translation of all Chinese foods into a language that you can understand. It tells you where to find a particular delicacy and at what price. This application is not free. It helps people locate for the best restaurants while in China. 
The Chinese Dictionary Application (CamDictionary)
As the name suggest this application helps travelers in translating Chinese words into English. It can be used to translate names of places, roads, people and even institutions into English. This application will make you learn some little Chinese or mandarin.
The Dongdong Mobile Aplication
This mobile application basically gives you Chinese train travel timetables by outlining the time of departure and the destination of particular trains. It becomes useful in planning travels, especially if you are to use the train.
The City Weekend Mobile 
This application offers a detailed profile and review of different areas in Beijing, Shanghai and Guangzhou. The profile include the directions, addresses, the cost of living, contacts and any other important information about these places.
The Shanghai Stops Application
This application basically lists all the bus stops on Shanghai roads in the order in which they appear.
The QQ Application
This is an instant messaging application which enables you to instantly connect and chat with your loved ones while in China.
The Wechat Application
This application is just like the QQ application, which enables instant messaging, the only difference is that this application allows video messaging. It also allows you to send and share photos with friends. 
Though some of these applications are free of charge some might attracts some fee. All the applications are compatible with all iphones and other smart gadgets like iPods, ipads and others.
Have A Story About Mobile Apps ?
Share your story, tips or review about Mobile Apps ? Help others on their their international or domestic travel.
More Related Topics:
Cell phone with electronic dictionary
Mobile Phone App Questions for China Travel
From Mobile Apps to China Mobile Phones Home