China WiFi

What is Wi-fi?
China Wifi is wireless networking - the ability to connect to a network or PC using radio signals (as opposed to network cabling). It's faster and has a greater range than Bluetooth, and is ideal for home or office connectivity. Using a wi-fi setup with your PDA or laptop means that you can share a broadband Internet connection, swap files, or share a printer or storage area between computer users.
In Shanghai, China Telecom has created China WiFi hotspots in over 4,000 public places. WiFi hotspots are expected to cover over 5,000 public places by the end of this year, forming a high-speed seamless broadband network that will cover the whole city.
China Wifi comes in two speeds: 802.11b (data transfer rates up to 11 megabits per second) or the newer 801.11g standard that goes up to 54 megabits per second. This compares with Bluetooth's much slower speed of 0.57 megabits per second. There's a newer standard, 802.11n being phased in that offers even faster connectivity.
Wifi 802.11b/g operates in the 2.4GHz frequency band (also used by Bluetooth and microwave ovens), and has a typical range of around 500 feet (with clear line of sight). Indoors, you can expect around 150 feet with 802.11 - this will increase with the 802.11n protocol.

Getting the Kit for China Wifi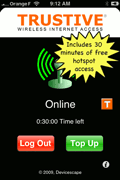 WiFi Pass:
Trustive gives travellers easy access to one unified network of more than 90,000 WiFi hotspots in 65+ countries through a single WiFi pass. There are 2017 Trustive WiFi hotspots in China, 600 hotspots in Hong Kong. By click top 'Find WiFi Hotspots', you can select a city, a location type or a chain. It will attempt to show you the locations of those hotspots on an interactive map. The China Wifi locations include airports, hotels, convention centres, restaurants, train stations, and more. 
---
Mobiles & Handheld computers:
There are a number of Mobile Phones and PDAs that have built-in Wi-fi. Three of our favourites are the Nokia N95, the o2 XDA Orbit and the Apple iPhone. 
---

Troubleshooting on China WiFi Networks and Connections ( Sample )
Symptoms:
When using a Wi-Fi network with your iPhone or iPod touch, you may occasionally encounter the following issues:
Unable to locate a nearby Wi-Fi network
Weak or low Wi-Fi signal strength
Unable to access the Internet
Note: The features and troubleshooting steps below may not be applicable to devices sold in certain countries.
Resolution
If you know there is a nearby Wi-Fi network, but you are unable to locate it on the Settings > Wi-Fi screen:
Move closer to the Wi-Fi router or hotspot.
If you are using a personal Wi-Fi network, verify the Wi-Fi
router is connected to power and turned on.
Wi-Fi networks configured as "closed" or "private" do not
broadcast the network name to Wi-Fi devices.
Join a "closed" or "private" network by tapping Settings > Wi-Fi > Other and entering the Wi-Fi network name, security, and password.
After joining a Wifi network, if you notice the signal strength is low or intermittent.
Move closer to the Wi-Fi router or hotspot.
Check for any sources of potential interference.
Remove any cases or attachments on your device that could interfere with a Wi-Fi signal.
If you are unable to access the Internet while connected.
If you are using a commercial China WiFi network that requires a special login or subscription, see this article for more information.
If you are in a location with multiple Wi-Fi networks, verify that you are selecting the correct network. Verify that the Wi-Fi network settings are correct:
Tap Settings > Wi-Fi.
Locate the Wi-Fi network you are currently using and tap >
You can configure network-specific settings, including IP address, DNS, and Search Domain settings.
Use "Forget this Network" to reset settings for this particular Wi-Fi network, including the password. This is also useful if you identify a network issue and want to prevent the device from automatically using this network in the future.
Use "Renew Lease" to acquire new IP address, DNS, and Search Domain information from the Wi-Fi network.
Note: If the Wi-Fi network uses MAC address filtering, you will need to add the MAC address to the access list for the Wi-Fi router. The MAC address for your device is listed as the Wi-Fi Address in Settings > General > About. If you are still unable to join a China WiFi network, or are unable to access the Internet while connected, try the following
Restart the device: Hold the power button until "slide to power off" appears. Slide to power off your device. When it is off, press the power button to turn it back on.
Reset network settings by selecting Settings > General > Reset > Reset Network Settings. Note: This will reset all network settings, including passwords, VPN, and APN settings.
iPhone only: If you continue to experience issues, consider turning off Wi-Fi and using the cellular data connection instead of Wi-Fi.
More China Wifi Related Topics:
China 3g
China 3g service introduction. China Uicom, China Telecom, and China Mobile network 3g setting.
Email in China
You might have experienced difficulties sending emails from your laptop or PDA from more than one location. There is a solution.
China Internet Access 
Describle different devices and ways to get on internet in China...

AirCard Rental for Laptops
Stay connected anywhere in China! No need anymore to look for the Internet Services in the Hotel or for an Internet Café...
China GPRS Enabled SIM Card for PDA...
Make calls, receive and send emails on the same device - your mobile phone.
China Preapid Data SIM Card for Aircard or PC Card
This SIM and USB or PCMCIA cards let you access the Internet via your labtop while traveling in China.

From China Wifi to China Mobile Phones Home Page