Order China Prepaid SIM Card


SIM card features & calling rates|GSM SIM faq.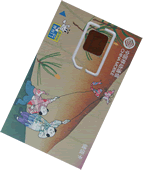 Welcome to our secure online store. For China SIM card calling rates and SIM card features if you are not farmiliar with this SIM card, please click here.

China SIM card
our price = $29 to $38 (USD)
China Airtime Card
our price = $19 (USD)
---
Shipping/Delivery: a) Delivery of your SIM card is FREE to you in main cities in China. 2-4 day delivery to your hotel/hostel in China to be awaiting you upon your arrival. NOTE: If you have your SIM delivered FREE in China, we will still send you your phone number when we receive your order. (please allow 24-72 hrs. for us to e-mail your phone #) so that you can give it out to those who need it before you leave home.
If you wish to have the SIM card delivered elsewhere, please choose a delivery option below.
b) 7-9 day delivery in U.S.A.or Canada (via certified mail): $2.85
c) 7-9 day delivery in Western Europe (via certified mail): $2.85
d) 5-7 day delivery in Hong Kong (via certified mail):$2.85
Please find more delivery options at China SIM Cards.
More Related Topic:
From Order China Prepaid SIM Card to Home Page