How to Unlock China Mobile Phones 
Despite the fact that most Chinese mobile phones are not tied to a carrier, or locked, in a few cases a mobile phone can be locked to a particular provider's subscriber module (SIM) card.
If this is the case, here is a few simple steps how to unlock China mobile phones:

First do not put the SIM into the phone. Turn on the phone and input the code *#2622746865625#, then turn off the phone and the SIM card can be inserted into the phone.
Note: after done the unlock steps above, GSM network should available; but if you replace another new card, you must repeat the above steps at that time.
How to Unlock China Mobile Phones by China Unicom APP

At present China Unicom launched a app, called network unlock assistant (网络解锁助手). It can make originally supported China Unicom network customized mobile phone unlocked, thus China Unicom 3G / 4G network or other world standard network can use this software to unlock: UnlockNetwork.apk. You also can download it from Chinese app shops from your phone.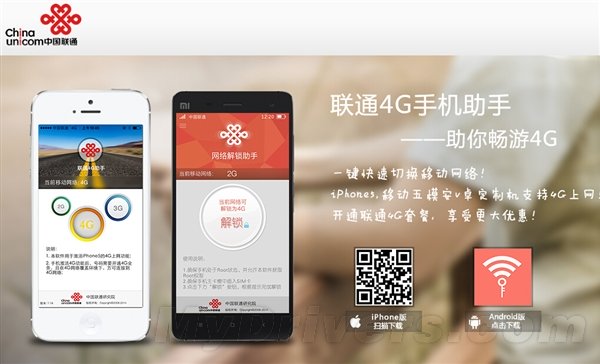 Method of using this software is also very simple, make sure your phone has root, allows the software to obtain root permissions. Then you make sure the main card slot to insert sim card, and opens a network connection (WiFi). You click the unlocking button on the software, waiting for a while you can complete the unlock. Unlock method is very simple, of course, the premise is that your phone supports China Unicom 3G or 4G on the hardware. Mobile phone software will automatically detect whether the phone supports. This app currently in Chinese language only.
Extended Knowledge:

That means, if your China mobile phone originally does not support WCDMA (3G)/FDD-LTE (4G), it can be used as GSM (2G) only even it is unlocked.
How to Unlock China Mobile by Getting a Code
Chinese versions phone from primary mobile phone producers could be unlocked exactly the same manner as other language editions cell phones. The precise process will be different somewhat, with respect to a maker and version. Special unlock processes are contained with the codes for the mobile phone.
Get a Code to Unlock China Mobile Phones Handset.

Sometimes, the phone company in China may supply the code. Please find main Chinese phone manufactures list as follows. You may send an request to ask a code.
How to Unlock China Mobile After Had a Code
If it's not going to, purchase an unlock code from an on-line source. 
The steps after you had the code from an online shop:
Place a sim card in the phone and flip on it.

Set up your language on the phone menu if you're not able to study 

Chinese. If you're able to read Chinese, bypass this step.

Processes and the important sequences will be different, depending on 

your mobile.

Switch the phone off, place a SIM from another carrier in your mobile 

after you have followed the process to input the unlock code in your 

mobile.

Power the phone on using a brand new SIM card. The network should be recognized 

by it and register the phone together with the number related to the new 

SIM card.
*The above unlock methods or services is for general information only. China Mobile Phones does not accept any responsibility for any loss which may arise from reliance on information contained.  
Unlocked GSM Phones
More on Unlock Cell Phone for International Travel
More on China Cell Phone Wholesale
More on Unlocked Cell Phone Sale
More on Cell Phone Accessories
More on China Mobile SIM Card
More on Top up Minutes
From How to Unlock China Mobile Phone to China Mobile Phones Home