Virtual China Mobile Number Q & A
A Virtual China Mobile Number can be used immediately without a sim card! It is convenient to send and receive text messages and make calls overseas.
If you have not registered the China virtual mobile phone number, here are the detailed registration steps.
Use promo code MA3321 to try it free for 7 days! After the first top-up, the validity period can be extended for an additional 30 days.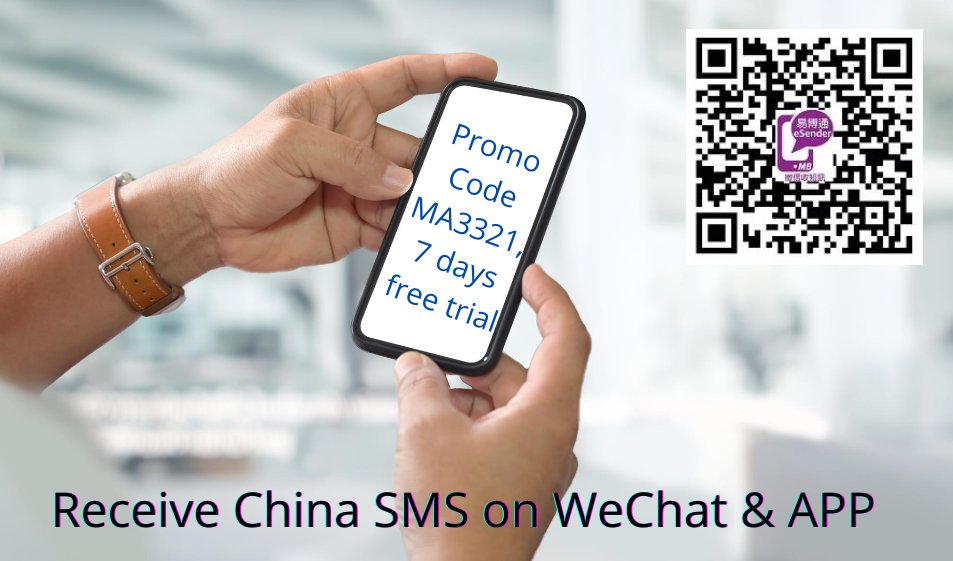 How to purchase a package to extend the validity period?



Virtual China mobile number is free for seven days (assuming you filled in the promo code when registering). Before the end of the use period, enter the eSender official account, click on your account at the bottom right My A/C, and select Top-up ( not recharge coupon).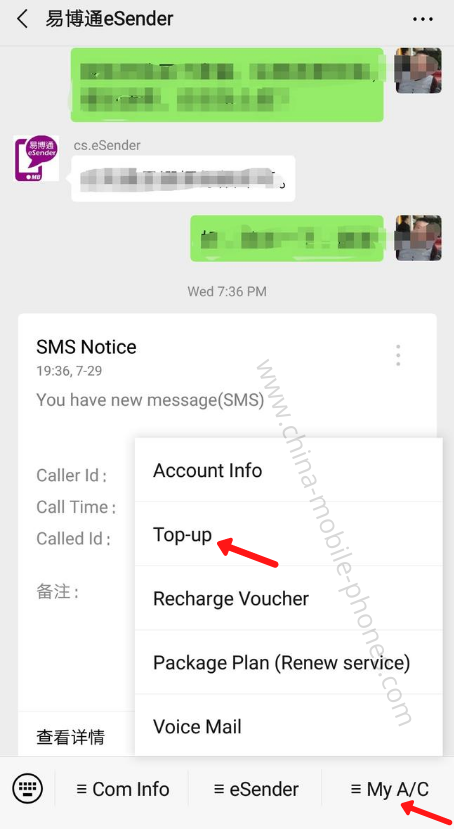 First, please click to select a number, your number will be displayed, just select it. If you do not select a number, the package below will not be displayed.

Then choose the payment method.

Finally, choose the package, choose one of 1, 2, and 3. It is more cost-effective to choose the longer package.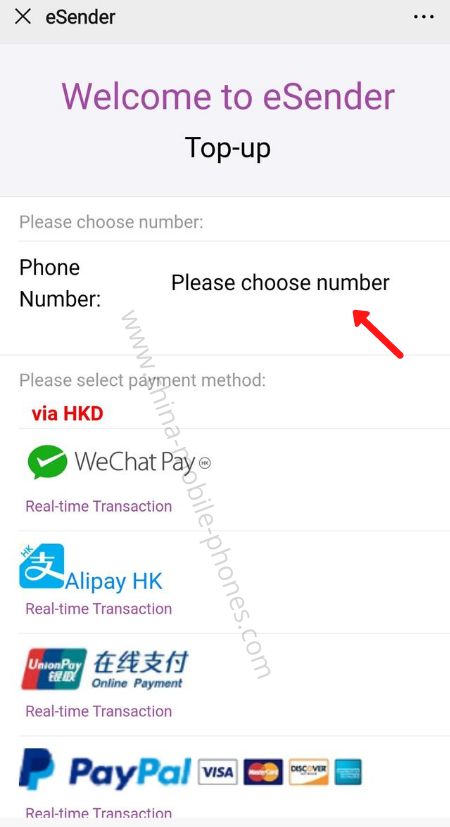 ---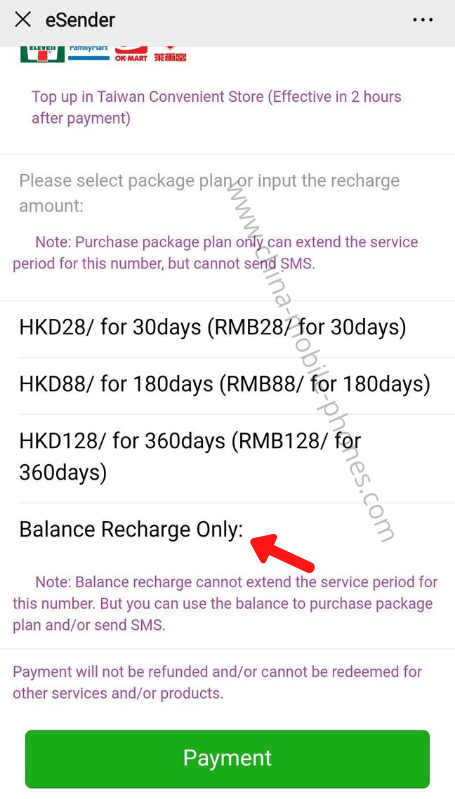 ---
How to top up the balance?
After purchasing the above packages, there will be a new validity period to confirm by SMS. What should you do if you need to increase your balance for texting or making calls?
Refer to the previous picture, the other steps are the same, but you don't need to choose a package. Instead, click on the package below: Balance Recharge Only (please see the previous image). You fill in the amount and then pay.
---
How to check the balance and expiration date?



Click on Account Info in the menu (the second image) , and you will see the product name, service status, account balance and expiration time.
---
How to send and receive text messages with your virtual China mobile number?



You can receive international text messages and send text messages from the eSender official account or the eSender APP. You need to have enough balance to send SMS.
To send SMS, click Send SMS. 

Fee and conditions, please refer to this page.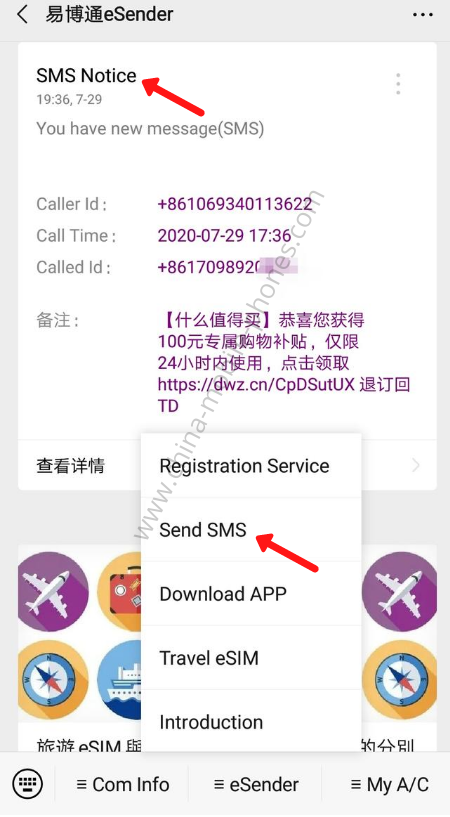 How to make a call with a virtual China mobile phone number?



You can make calls from your APP.
From China virtual mobile number (your current number) to call another China virtual mobile number: directly dial
Call China phone number from your number: directly dial, the fixed number plus the area code, such as 021-10086.
Call Hong Kong number from your number: 00852 + Hong Kong number
Call other countries from your number: 00 + country + area code + number
---
Dial your number from other China numbers: directly dial
Dial your number from Hong Kong numbers: 001+ 86 + your number
Dial your number from a foreign number: country's outgoing number + 86 + your number
International call rates(HKD/Per Minute): 
| Destination | Code | Rates |
| --- | --- | --- |
| Australia | +61 | 1 |
| China | +86 | 0.3 |
| Canada | +1 | 1 |
| France | +33 | 3 |
| Germany | +49 | 1 |
| Hong Kong | +852 | 0.3 |
| Italy | +39 | 3 |
| Indonesia | +62 | 1 |
| Macao | +853 | 1 |
| Malaysia | +60 | 1 |
| Satellite Phone | | 100 |
| South Korea | +82 | 0.3 |
| Singapore | +65 | 0.3 |
| Taiwan (Fixed Line) | +886 | 0.3 |
| Taiwan (Mobile) | +886 | 1 |
| Thailand | +66 | 1 |
| USA | +1 | 0.3 |
| UK | +44 | 3 |
| Vietnam | +84 | 1 |
---
How to white list the APP?



In order to be able to use more functions on the APP, there is prompts on the APP to let you whitelist.
Open the eSender APP, find the bottom menu, click the Settings Button in the upper right corner, and click to turn on all permissions.
If you are not on the page below, please click Me on your bottom menu.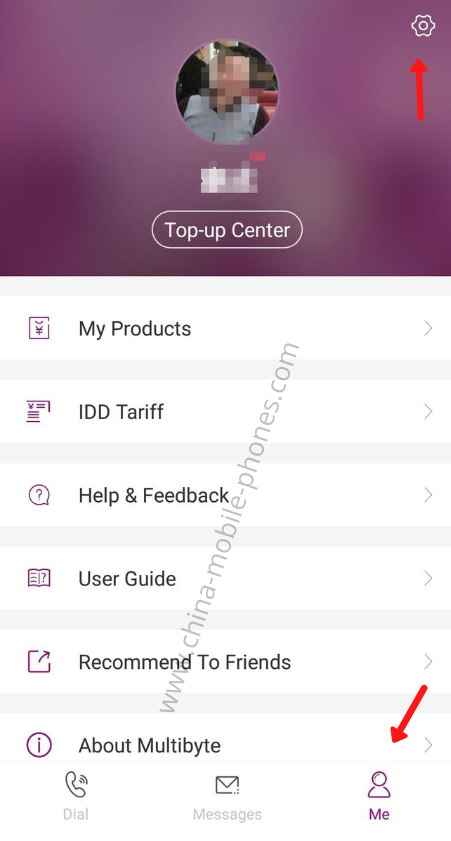 ---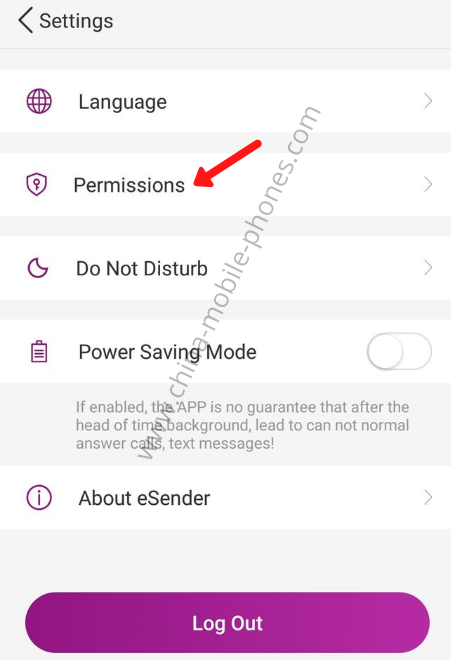 ---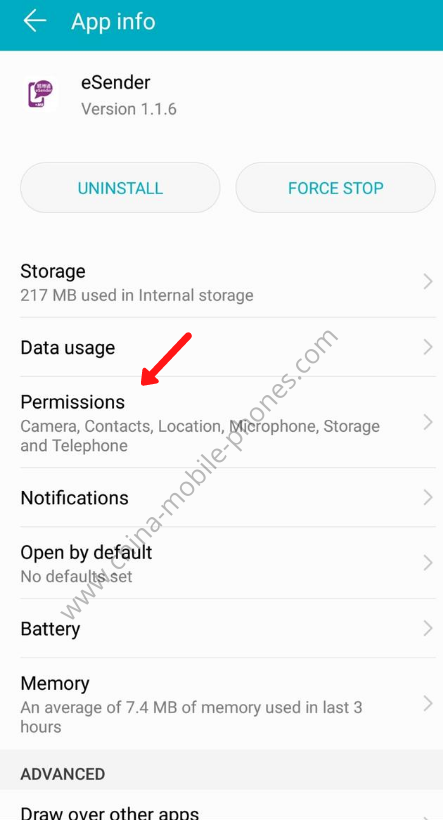 ---
How to use the voicemail?



The voicemail is in eSender official account. If you prefer to use voicemail, please don't download/use eSender APP. Otherwise, you can't use the voicemail.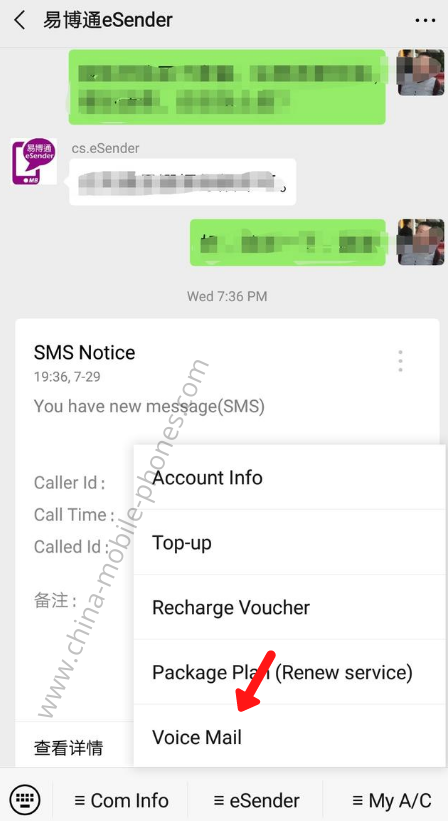 After clicked the voicemail,
Choose your phone number,
Select activate voice mail.
You can record your greeting by selecting start recording. Recording completed, press 'stop recording'
When finished recording, select 'playback' or 'upload'.
When someone left a voice message, a notification SMS will be sent to you. 
---
How to 

prove you are the owner of your China virtual mobile number?



When opening a bank account in China, some banks require proof that the cell phone number is the owner's own (owner's certificate), otherwise, the business cannot be processed. To meet the needs of customers, eSender has developed this kind of real-name authentication query function and can download the owner's certificate.
The steps to get the proof of China virtual number owner are as follows.
1. Enter eSender official account --- click My Account --- click Account Info.
2. Click on the real name authentication data --- automatically generate your number data --- click to download the owner certification document
3. Get the virtual mobile phone number owner certification document in PDF format
(* Note: The opening Chinese mainland bank account depends on the bank or regional account opening requirements. For detailed account opening requirements, please consult the bank.

If our FAQ does not answer your question, please contact us.


---
Data and Minutes Top-up for China Mobile Numbers Purchased Elsewhere
Virtual China Mobile Number Registration Guide
China 4G SIM Card Recharge and Renewal